The Imaginary Hat, Balkanoes, King Cassady + special guests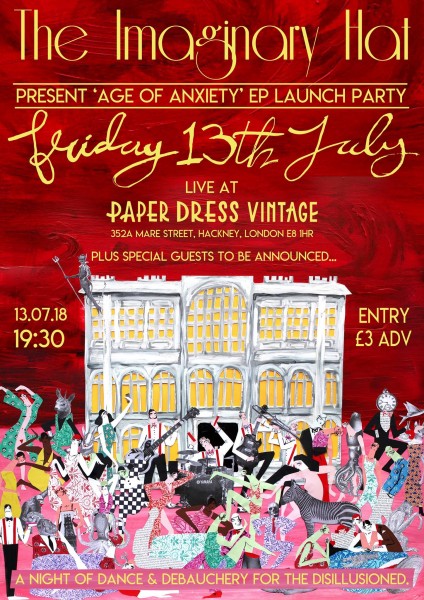 The Imaginary Hat are delighted to announce the launch party for their new EP, hosted at Paper Dress Vintage in Hackney.
Limited advance tickets just £3 available here!
Pre-orders of CDs include FREE ENTRY to the show:
//theimaginaryhat.bandcamp.com/album/age-of-anxiety
Tickets also available in the link above for the non-physical music consumers.
Special Guests:
The Balkanoes – serving up a goulash of Balkan brass and fiddle with klezmer flavours to create hot, soulful party music to get you dancing til dawn.
King Cassady – King Cassady blend a high energy cocktail of gypsy jazz and flamenco for you folks to dance to.
Alexia Chambi Music – Danish-Cypriot singer/songwriter crafting songs with hints of jazz, soul & r'n'b.
RSVP to the Facebook event page and invite your friends here!