TWEAK #2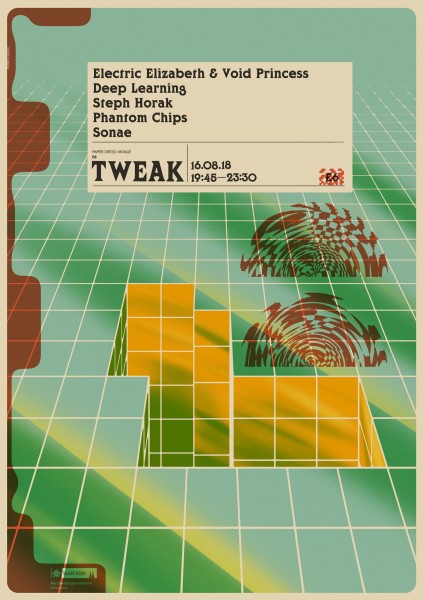 #TWEAK are back on Thursday 16 August for another. Expect ambient dream pop,Experimental electronics, poetic bucket antics, wearable synths and vocal wonk.
Electric Elizabeth + Void Princess:
Experimental spoken word duo
Electric Elizabeth was born on November 1st 2015 when the Noisevember project started that year. They've had fun learning how to investigate sounds using audacity and currently investigating the sounds hiding in a metal bucket via contact microphones and the cheapest space echo delay they could find. This has been described as sounding like being on a haunted boat.
D E E P L E A R N I N G:
Retro – ambient- future
cosmic cassette vibes- #new #material
Come say hi. I'll be wearing dark sunglasses and a light kaftan. I will have a minder who is 5 ft called Lil' P, who speaks mainly in Mandarin. He will insist you call me 'Deep' and not my real name. He will be carrying my pet axolotl in a small mobile tank.
//www.facebook.com/deepdeeplearning/
//twitter.com/salmonuniverse?lang=en-gb
Steph Horak:
is a sound and video artist. As a vocalist/producer she experiments with different systems for voice and composition, whether through the use of self-programmed systems, or combinations of hardware and electronic instruments built by friends. These experiments can be found under the moniker SheIsRevolting. Stylistically they edge somewhere between experimental electronica, traditional songwriting, and conceptual pieces. Recent sound projects include threehundredandsixtysix, where Horak sings a note a day for a year.
//stephhorak.wordpress.com/
//soundcloud.com/sheisrevolting
//www.youtube.com/user/sheisrevolting/videos
Phantom Chips:
Phantom Chips performs with an array of home made electronic instruments, samplers and wearable noisemakers. Concocting rhythms from manipulated found and recorded sounds she invites the audience to wear and play her costumes and join in with the audio. The costumes create sound through movement and allow audience members to experiment with a brand-new form of musical expression. The deliberately clumsy and awkward interfaces invite playfulness and improvisation.
Sometimes member of Goodiepal & Pals and the FCKN BSTRDS
//www.phantomchips.com/
//phantomchips.bandcamp.com/
//twitter.com/phantomchips?lang=en-gb
Sonae:
'patient forest techno' Resident Advisor
Delighted to welcome her from Cologne to play a London show touring her brand new album " I started wearing black" freshly released on Monika-Enterprise
I Started Wearing Black is neither loud nor clear — and nor should it be. It's an album that takes time to coalesce, to assemble. It moves between the lo-fi house sounds of Opal Tapes; the concrete realm of experimentalists like Félicia Atkinson; dubby deconstructed spaces of "surface noise," and creaking, ominous strings reminiscent of The Marble Index. Lullabies creep in, muffled explosions detonate, beats stutter, cough, and expire.
As listener, you may want to turn your face until the darkness goes, but Güttler gently and insistently turns it back, with a concrete fist in a rubber glove. The plastic squeaks on your cheek (whether bristly or smooth), and the reverberations of that contact sob in echoes that never quite die.
//sonaemusic.net/
//twitter.com/sonae_music?lang=en
#TWEAK DJ's moulding the spaces in between….
DOORS OPEN: 7.45pm-11.30pm
£7 cash only on the door