Live Circuit Presents: GETRZ, The Green Brothers, Tokyo SexWail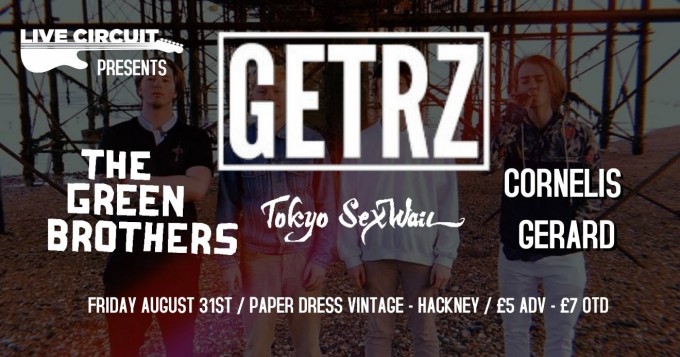 Live Circuit Presents an evening of fresh new music..
Limited advance tickets available here!
GETRZ
GETRZ are an indie/punk 4-piece from Swindon, Wiltshire.
The Green Brothers
Three Piece Indie/Alternative Band from Essex
Tokyo SexWail
From the outskirts of London and the outcast of society there comes a band forged from a pure passion of making music that's meaningful and unique. Tokyo SexWail are punchy, political, poetic and surreal. Imagine The Doors, Rage Against The Machine and a razor toothed Kate Tempest made passionate love in the doorway to The House Of Commons simply to say a big F**K YOU TO THE ESTABLISHMENT! And produced a hard-core psychedelic lovechild that is Tokyo SexWail. The name says it all.
Cornelis Gerard
Punk poet / funk-rock machine, laying down grooves and moves with a slight attitude. Helping you to celebrate being alive and to stay cool forever.
Tickets £5 Advance via TicketSource / £7 OTD (Cash only)
RSVP to the Facebook event page and invite your friends here!