Big Scary Monsters Big Day Out!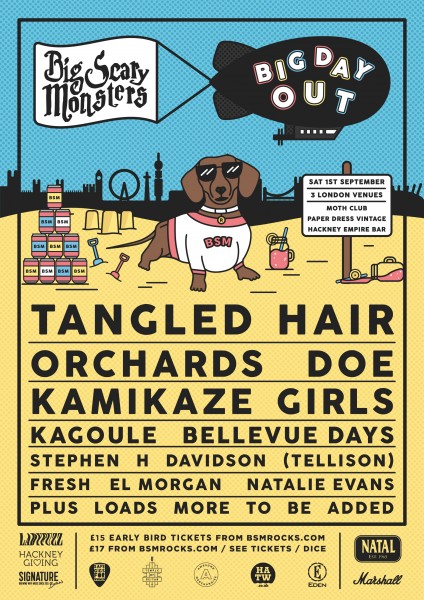 We're welcoming in the lovely people behind excellent UK indie label Big Scary Monsters on Saturday 1 September for a big old knees up! Here's what they've got say about what's in store:
We're extremely proud of our roster of UK artists and the scene here in general, so we wanted to put something together to celebrate that.
BSM's Big Day Out pulls together 20 of our favourite artists across three brilliantly unique East London venues – MOTH CLUB Paper Dress Vintage and Hackney Empire Bar – each within a couple of minutes stroll, for what we hope will be everything the name suggests.
For us, community goes beyond the music and so we're very pleased to partner with a handful of wonderful organisations including Safe Gigs for Women, Heads Above The Waves and Hackney Giving, who we'll be donating a percentage of all ticket sales to. In addition to this our friends Signature Brew will be providing lots of lovely liquid refreshment while Temple of Seitan offer all attendees a discount on their delicious vegan treats, from their restaurant just yards away from our venues.
We've spent a lot of time curating what we think will be a perfect day of live music and fun. We've even organised the world's greatest closing party, which we'll be telling you about nearer the time…
_ _ _ _ _ _ _
THE LINE-UP:
Tangled Hair
Kamikaze Girls
Orchards
Doe
Kagoule
Bellevue Days
Stephen H Davidson (Tellison),
El Morgan and the Divers
Natalie Evans
and lots more
see full line-up here!