Cesarians Hallowe'en Happening with Valve and Bella Barton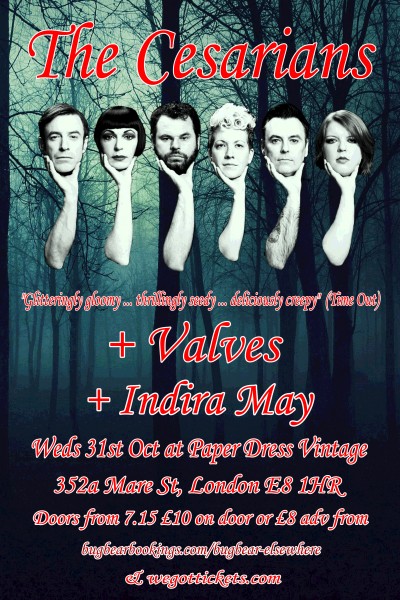 Join us this Halloween night for a special headline set from The Cesarians and special guests..
//www.facebook.com/TheCesarians/
The suitably spectral edge to this remarkable band's music finds a good Hallowe'en home at Paper Dress this evening, but no shock tactics necessary, The Cesarians are always tempering their sincerely hauntological fire with succulent but soulfully intense high drama pop noir.
Following critically acclaimed albums produced by Craig Leon and Teo Millar, the 'wrong rock/odd pop' maestros now channel a slightly more electronica hinged furrow with a little less brass a little more of a bleep factor and a wee bit of Velvets cum Glen Campbell guitar.
Long standing fans of this ace act will be pleased no doubt that there's no let up in the intensity and emotional maelstrom they have always channelled. .. and then there's Charlie Finke and Justine Armitage's sensational song craft. All emotions are accessed, nerves are stripped back to the bone, the rawness is palpable, joy, dispair, anger, the lot.
Admirers of Nick Cave, Jacques Brel, Kris Kristoffersen, Bowie will all enjoy these dark eyed romantics, but all manner of things resonate in their wonderful body of work from The Fall to ELO to Cardiacs.
Chloe Herington and her two compadres with their unique take on minimalist found sound built antsy pop. Really interesting work that is as accessible as it is outre. Great stuff…new E.P 'Cycles' is about to emerge.
Young bohemian singer songwriter with a nice relaxed vibe and a fetching hint of out thereness.. perhaps it's the nice yielding tone to her voice, but there's a lot to keep the attention with the edgy, declamatory yet sweet toned songs Bella has crafted. These songs are drifting modal affairs that have tons of appeal. Not bog standard singer songwriter fare at all, thankfully.Jazzy stoned vibes, dolorous cool delivery…reminds somewhat of Marine Girls era Tracey Thorn. Educated at the Brit School and living proof that esoteric talent can be trained if not actually taught….reminds somewhat of Marine Girls era Tracey Thorn. Educated at the Brit School and living proof that esoteric talent can be trained if not actually taught.
RSVP to the Facbeook event page and invite your friends 
here
Art Macabre Halloween Life Drawing Special!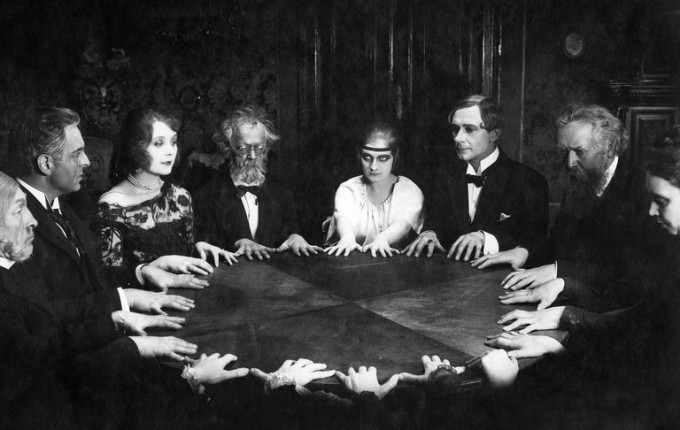 ART MACABRE DEATH DRAWING present A SKETCHY SÉANCE : A Spirited Halloween AfterLife Drawing Special
Monday 29 October 2018, 7-9pm
@ Upstairs Drawing Room, Paper Dress Vintage, Hackney
Limited advance tickets available here
Ticket price includes a complimentary drink, paper and drawing materials.
Do you dare to ascend the stairs and enter our drawing room for a sketchy séance? You are invited to East London's first ever Sketchy Séance. Take your seat around the table, clear your mind of expectations and cynicism. Suspend your disbelief in your own drawing skills. Get ready, pencil and paper poised, to commune with a surprise guest spirit. A life model who no longer lives in our realm.
We cannot fully anticipate what the evening might hold. It cannot be foretold. You attend at your own risk. Will you feel moved to partake in automatic drawing? What messages and images might you draw from beyond the great beyond? Who might grace our stage with their ghostly presence to be captured in your sketches? Spirit sighting are not uncommon in Hackney, from Tudor ghosts at Sutton House nearby to strange encounters reported at twilight in the neighbouring church graveyard.
Penetrate the veil between the living world and those passed, as Halloween/Samhain approaches fast. Led by the medium-sized host and fan of nineties trance music, Art Macabre's Raven Rouge.
Taking inspiration from the showmanship, the power of suggestion and stage craft of Victorian and Edwardian seances, Art Macabre presents a uniquely creative way to mark the occasion of Halloween.
Not suitable for children. Strictly no phones or photography allowed during the event. Any visitations may be captured and recorded using drawing and writing only. Limited numbers of places around our table.
DISCLAIMER ISSUED ON THE ADVICE OF OUR LAWYERS MR TONGUE AND MR CHEEK ESQ: 
*Please be aware that no actual ghosts/spirits/dead shall be contacted/harmed or summoned during this event. Spirits shall be consumed but not summoned. Not suitable for those who are faint-hearted, lily-livered, literally-minded, mortally-gullible, or those who cannot stomach or digest camp Halloween humour. This is a theatrical life drawing event. It is not a genuine nor serious Spiritualist event or paranormal event in any way. *
£20 includes a drink from the bar (wine/beer/soft drink/cuppa) to calm your nerves and all complimentary drawing materials and paper, thanks to GreatArt.
Noteworthy ft Ålesund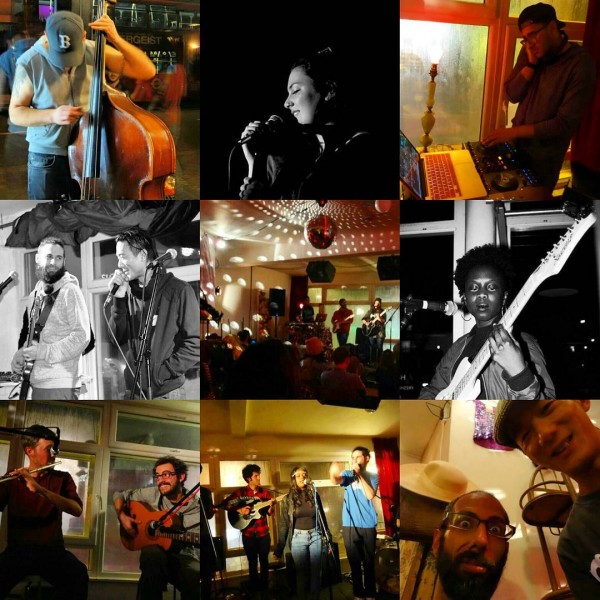 Join us this Sunday for all the usual, jamming and open mic'ing you've come to expect with Noteworthy!
Sign up at 1800, live music from 1830! Now running till the later time of midnight each week and with a brand new outdoor space to enjoy a late Sunday drink..
Our feature act on at 9pm will be Ålesund
The Bristol dreamscape four-piece Ålesund, combine immersive sound; rolling drums; intricate guitar work; and soaring vocals, they are an atmospheric force from the trip hop heartland that create expansive, emotive and exhilarating sound worlds.
//www.youtube.com/watch?v=vGtV1IOAl0k
Spread the word and hope to see y'all there!
Happy hour all night long!
Noteworth Open Mic Info
The venue has a backline of guitar amp, bass amp and drum kit (bring breakables to avoid disappointment) so full band acts are most welcome.
If you have a full setup please give us a shout before hand if you can so we can prep for you to cut down on change overs.
As usual we're looking to have a jam so any drummers, bass players, guitarists etc give us a shout
Sign up for open mic is from 18:00, get there early if you can to make sure you get on the list, and spread the word.
For more details about the Noteworthy crew take a look at their Facebook page here, or read this glowing review here!
DAS FLUFF Album Launch w Greenhaus & Bruno Wizard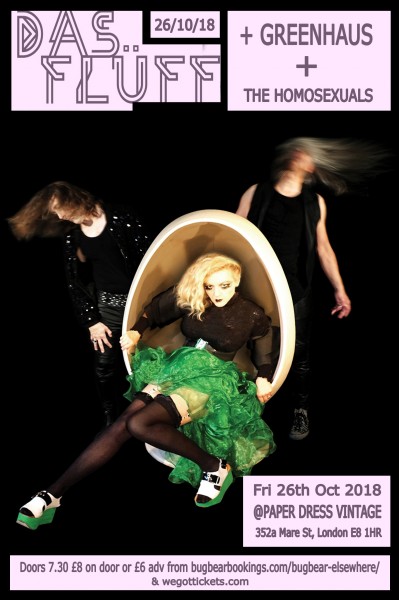 Das Fluff's London launch of their 4th Album 'Anxiety Dreams' with support from Greenhaus & Bruno Aleph Wizard (The Homosexuals)
Limited advance tickets available here!
DAS FLUFF
'Like unconscious thought throbbing its way to the light, DAS FLÜFF bites the head off mainstream music. Fusing synths, theremins and guitars with the siren's call, this sound reflects your darkest fears and desires in a mirror ball.' (Mutig Music)
'Anxiety Dreams is a release with so much in its intrigue carrying layers and diverse depths that each outing is a fresh adventure. We were already locked in an on-going affair with Flower With Knife but quite simply its successor leaves it trapped in its shadows as Das Fluff treads a whole new plateau of creative sorcery.' (RingmasterReview)
GREENHAUS
A stark and startling post punk electro-conceptual outfit originally founded by Steve Bellamy, Frank Drake and Andy Page in the late 1990's, with releases under the Beggars Banquet and Kickin' Records. Greenhaus have just released their 5th studio album which boldly adventures into sounds marking new and exciting territories for the band.
BRUNO WIZARD (The Rejects/The Homosexuals)
The legendary punk visionary Bruno Wizard will be performing. and ANYTHING could happen!
//en.wikipedia.org/wiki/The_Homosexuals
//thehomosexuals.bandcamp.com
//youtube.com/electrisco
And after the live music we have
DJ Freaktribe til 2am…From Bowie to NIN via Suicide, IAMX, Einstürzende Neubauten, Suede, Fever Ray and The Stooges.
RSVP to the Facebook event page and invite your friends here!
Sideways Saloon Presents: The Travelling Band / Chloe Foy / Hannah Ashcroft
Sideways Saloon Presents…
THE TRAVELLING BAND / CHLOE FOY / HANNAH ASHCROFT
+ DJs
After a night to remember at the launch back in April, Sideways Saloon Records London showcase returns to Hackney's offbeat clothing store and music venue, Paper Dress Vintage on Thursday October 25th. Expect large doses of guitar-soaked high hopes and broken dreams, plus DJs playing the best rock n' roll, alt-folk/country and Americana. October's show will feature live music from Chloe Foy and Hannah Ashcroft, plus a headline set from the hosts, The Travelling Band.
Limited advance tickets available here
RSVP to the Facebook event page and invite your friends here!
_______________
Focused around the songwriting talents and production skills of Jo Dudderidge and Adam Gorman and the rhythmic driving force of enigmatic drummer Nick Vaal, The Travelling Band have been quietly honing what Marc Riley described as "Mancunian Americana". Their resulting fourth album 'SAILS' mines a rich seam of influences, highlighting the band's love of American indie rock, but still with that Mancunian twist.
CHLOE FOY
Chloe Foy writes a brand of melodic, homegrown pop that has been likened to such artists as Laura Marling and Sharon Van Etten. Her songs are imbued with lyrical and textural inflections evocative of much of the music she loves – taking inspiration from classical music as much as wider trends within British and American Indie pop, Chloe's music comprises of carefully constructed arrangements that delicately compliment her cryptic lyrics.
Influenced by the likes of John Martyn, Feist and Radiohead; Manchester based singer/songwriter Hannah Ashcroft writes her own brand of moody alt folk. She released her Melbourne made, debut EP 'The Quiet Kind' last year, receiving play from Tom Robinson on BBC6 Music and earning praise from Folk Radio UK.
She has since taken part in Reform Radio's collaborative experiment, working with experimental, multi instrumentalist Marlene Ribeiro (Gnod). They released their ambient single 'Downfall' on Rhythm Lab Records in April this year, with the track debuting on Mary Anne Hobbs' BBC6 Music Recommends show.