Joel Sarakula presents Soft Rock Cafe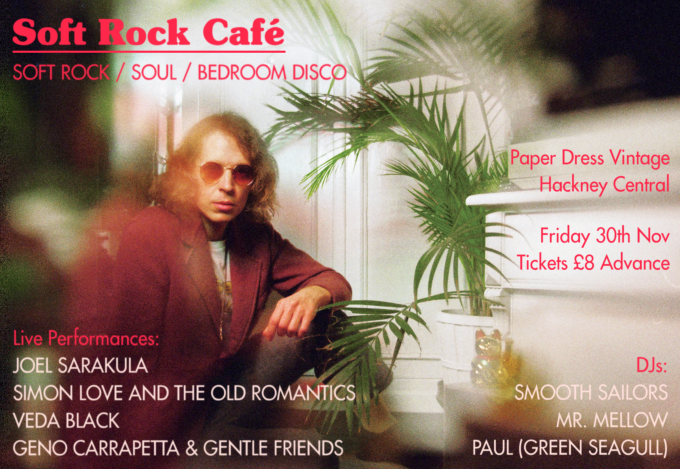 Join us on Friday 30 November as Joel Sarakula launches a brand new club night, here's what he's got to say about what's planned…
Do you like Soft Rock Music? Are sweet falsetto vocals, fruity chords and easy, soulful beats your guilty pleasure? Then I want to welcome you to my Soft Rock Cafe!
I'll be hosting the Soft Rock Cafe at Paper Dress Vintage on Nov 30. It's a celebration of our much-misunderstood genre, featuring the latest and greatest in live and pre-recorded Soft Rock, Soul and Bedroom Disco. As well as playing a few of my own jams I have for your listening pleasure some of my favourite London artistes who know how to get soft and soulful:
Simon Love and the Old Romantics
Veda Black
Geno Carrapetta & Gentle Friends
As well as DJ sets from Mr. Mellow, Paul Milne (Green Seagull) and Smooth Sailors till 3am
There's enough hardness in this world… it's time to get soft.
Joel Sarakula
RSVP to the Facebook event page and invite your friends here
A Finch & The Forest and Friends..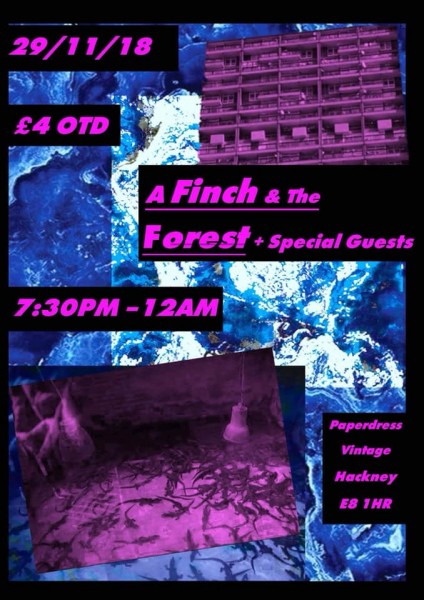 A Finch & The Forest are back for another headline show at Paper Dress on Thurs 29 November
Live sets from:
A Finch & The Forest
Soundcloud.com/afinchandtheforest
Bebeluna
soundcloud.com/bebeluna
King Arthur
soundcloud.com/kingarthurova
DANiCA
soundcloud.com/danicahunter
Late Night Lido Community
soundcloud.com/unruliest_geezer
There will also be Dj from Sets from Di Koshin on the night
soundcloud.com/joekoshin/sets/diskoshin
only £4 OTD
RSVP to the Facebook event page here
Scruff of the Neck Presents: Young Monarch + Lucky Horses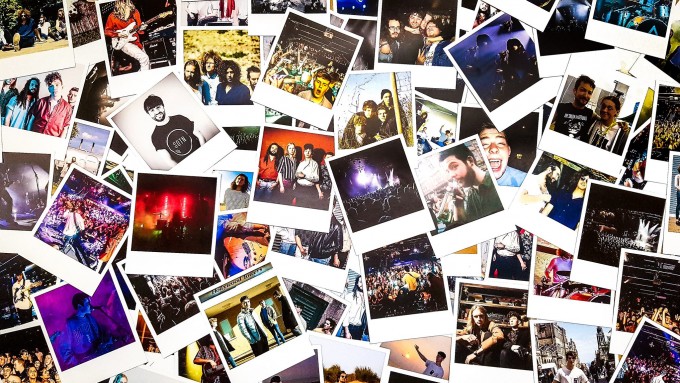 Scruff of the Neck presents Young Monarch plus special guests Lucky Horses
Limited advance tickets available here!
Young Monarch
An engaging blend of ambient sounds, classical instruments and soulful vocals that truly captivates & serves to distinguish the band
FACEBOOK: //www.facebook.com/youngmonarchband/
LISTEN: //soundcloud.com/youngmonarchband
TWITTER: @YoungMonarchUK
LUCKY HORSES
'Imagine the Pet Shop Boys produced by Daft Punk with backing vocals from Liam Gallagher…" @freshonthenet
FACEBOOK: //www.facebook.com/pg/LUCKYHORSESband
LISTEN: //soundcloud.com/lucky-horses-963570416
TWITTER: @luckyhorsesband
▬▬▬▬▬▬▬▬▬▬▬▬▬▬
SCRUFF OF THE NECK
▬▬▬▬▬▬▬▬▬▬▬▬▬▬▬
"a Super-cool imprint" – Manchester Evening News
"Scruff are proving themselves to be instrumental in bringing forward new talent" – Louder Than War
"A one-stop-shop for getting acts to the next level" – Ben Ryles, DHP Family
"Discovering and developing some great talent in Manchester and beyond, it's exciting to be working with them" – Joe Vesayaporn, Music Glue
www.scruffoftheneck.com/events
AGE POLICY: 18+
Paper Dress Xmas Party & Hackney Winter Night Shelter Fundraiser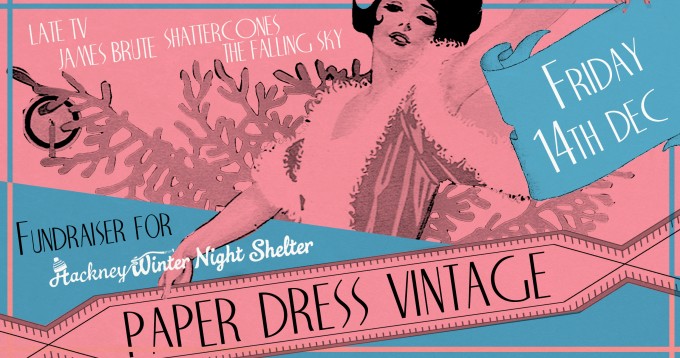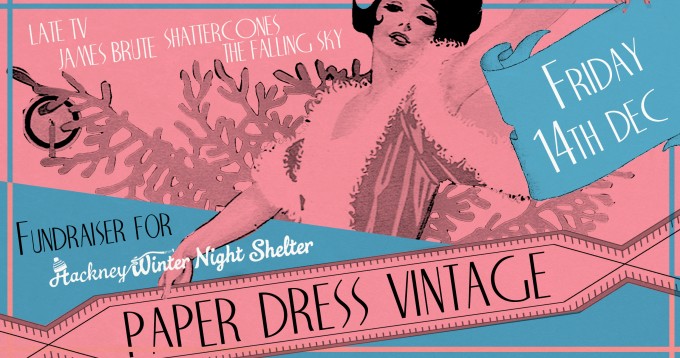 Join us on Friday 14 December for another memorable night rocking around the Christmas tree with special live guests Late TV, James Brute, Shattercones (new project from the talented people behind Bridport Dagger) & The Fallen Sky – Band joining us for the annual Paper Dress Christmas party!
Plus special guest DJ sets from The David Lynch Disco & Liam Pacific Social Club!
All profits from ticket sales will be donated to the Hackney Winter Night Shelter
£5 suggested donation or what you can afford
RSVP to the Facebook event page and invite your friends here!
PDX
/// THE LINE-UP ///
LATE TV
//www.facebook.com/theLateTV
Culling influences from jazz cats and art rockers, B-movies and trash television, via Lynch and Tarantino, Late TV are the moonlighting house band for a surreal all-night dream club where the intangible dance floor shifts and folds to become the set piece of a talk show beamed onto the farthest reaches of your channel selector.
JAMES BRUTE
//www.facebook.com/jamesbrutemusic/
James Brute writes spooked out songs of love, loss and lust and delivers them in a heady mix of acid blues, doom-wop and rock n'roll.
The former front man of The Brute Chorus released the a cappella single Bury Yourself in 2014 with long-term collaborator Mat Martin. The single got picked up by John Kennedy on XFM and garnered a range of press including the NME. Shows followed in support of Nadine Shah, Kingsley Chapman and the Murder, John J Presley, Furs and Big Girls alongside legendary basement parties in Homerton under the old Railroad Café.
As the sound became more expansive he began to build his band, now featuring Dave Ferrett (Bass, Vocals & Percussion), Johnny Manning (Keyboards and percussion) and Findlay William Brown (Drums).
"…a must see for anyone with a hankering for bleak-abilly blues." – NME
SHATTERCONES
//www.facebook.com/shattercones/
A new band. Soundscapes, immersion, installations, soundtracks, no rules.
THE FALLEN SKY
//www.facebook.com/FallenSkymusic/
Drawing influence from the dream-like, distortion-laden shoegaze bands of the 90's… atmospheric and melodic, and harking to the etherial soundscapes of David Lynch.
NYE Rock n Roll Circus!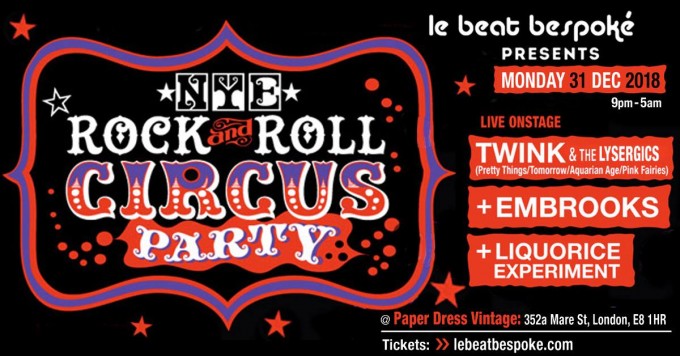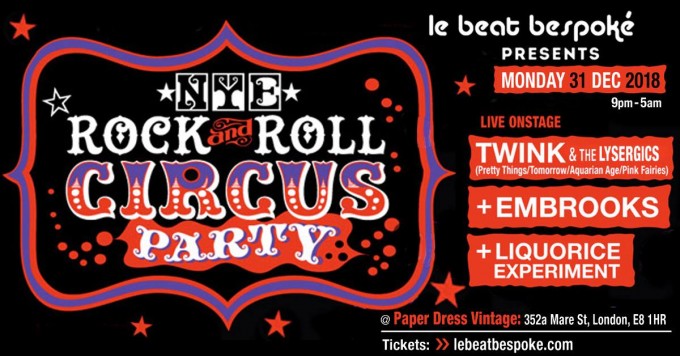 We've only got the legendary Le Beat Bespoke hosting a huge NYE party at Paper Dress this year. They're hosting a Rock & Roll circus themed do with special guests TWINK & THE LYSERGICS, The Embrooks & The Liquorice Experiment and it's going to be MEGA!
Tickets priced at £15 without booking fee are available to purchase in store or you can grab them online here
RSVP to the Facebook event page and do your friends a favour and invite them here