Xmas Single Launch Party! ft Oh!Gunquit, Green Seagull & more..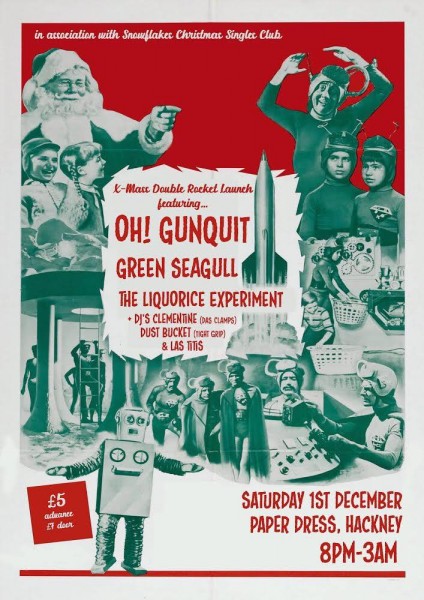 Xmas Single Launch Party with OH! GUNQUIT, GREEN SEAGULL, THE LIQUORICE EXPERIMENT live plus DJ's Clementine (Das Clamps), Dust Bucket (Tight Grip) & Las Titis…!
A Trash-Psych-Fuzz, Garage-Surf-Exotica, & RocknRoll Party to Celebrate the Festering Season with the Release of Limited Edition 7″ Single from both OGQ & Green Seagull by Dutch Label 'Snowflakes' relating to all things Christmessy (available on the night)……+
We'll be doing a bring your own Wrap-a-Present-Swap of something you wanna rid yourself of and burden someone else with.. (one man's trash is another man's treasure!)……So come for a smashin' single releasing xmas dooo – full of Holiday Jeer!
<<<<< Advance £5 Tickets Available NOW (£7 on Door) >>>>
/// OH! GUNQUIT: London based 5-piece cosmopolitan bunch of Garage, Surf, & Rumble-Freakabillys who concoct a wild brew of Exotic RocknRoll. With two studio Albums & four Singles they continue to bring their unique blur of live shows all over UK & Europe. While working on their 3rd Album the Dutch label 'Snowflakes' will release an xmas tinged new 7″ single with the searing cover of The Sonics 'Don't Believe in Christmas' & their own Fugs meets MC5 sounding 'High on Xmas'. \\\
'A melting pot of rock n roll voodoo madness and pure unadulterated aural expression, perhaps the perfect soundtrack to a hedonistic road-trip yet to be made' – Vive Le Rock Magazine
'Strong purveyors of vicious & exotic raw pop music' – Rough Trade
//www.facebook.com/ohgunquit/
/// GREEN SEAGULL: Green Seagull's blend of ornate psychedelic pop and fuzzed-out garage rock has won them fans all around the (snow)globe. Their debut LP 'Scarlet Fever' received rave notices from the likes of Shindig and Record Collector, also garnering a few spins from 6 Music's Mark Radcliffe, Marc Riley and Gideon Coe. They are currently hard at work on the follow-up album and are set to release a festive single through Dutch label Snowflakes featuring dreamy original 'First Snow of Winter' and a doom-psych take on 'God Rest Ye Merry Gentlemen'. \\\
'Any band that can fit such shifts and surprises into less than three minutes deserves your full attention' ** Shindig
'London's hottest neo-psych revivalists' ** Record Collector
//www.facebook.com/greenseagull/
/// THE LIQUORICE EXPERIMENT: Nuggets infused psych-warriors. //liquoriceexperiment.bandcamp.com/
Plus DJs till late!
Spread the word – Facebook event page here!