Sad House Daddy Presents: Sons of Viljems / V4V / Ama//Mizu / UYUNI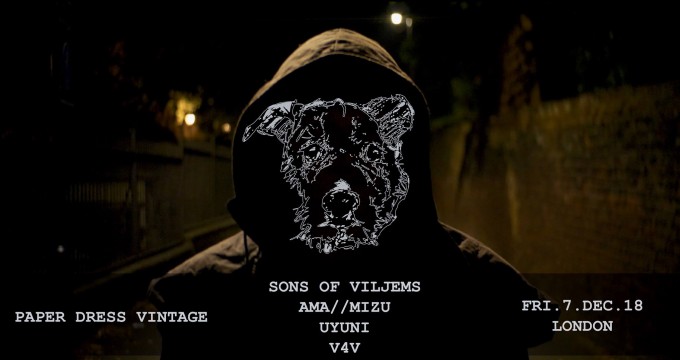 Sad House Daddy presents Sons of Viljems live at Paper Dress Vintage, with support from V4V, Ama//Mizu and JEANGA.
SONS OF VILJEMS
Sons of Viljems are a brand new experimental duo based in London comprising Nejc Haberman, bass player of the Slovenian ethno-jazz ensemble Jazoo, and Andrea Giommi, composer, guitarist and bassist for psych-noise acts The Emerald Leaves, Edible Woman and Leg Leg.
Their music is based on the stark contrast of their individual musical styles, resulting in fluid, groovy and ambient tunes that are melodic, minimalistic and evocative.
Until recently only ever having performed their music live, the duo have just unleashed their first release, 'Touch Me Not', an 8-minute nocturnal suite accompanied by a short film by director Bojan Brbora.
//www.youtube.com/channel/UC1pSjUzb4_dIbLY7vgtOOmg
V4V 
Best remembered for his role in late-'70s experimental rock trio This Heat, drummer and vocalist Charles Hayward has been a constant presence on the outer fringes of the music scene ever since, both working as a solo artist, playing in groups including Massacre and Gong and as a session drummer for bands including The Raincoats and Hot Chip.
In his latest project, V4V, he enlists bassist Nick Doyne-Ditmas, guitarist Vern Edwards and DJ BPM(breaking out from the grime mould for which her Resonance 104.4fm radio show is increasingly acclaimed) to create "an 'improvised psychedelia' that occasionally recalls Can at their most drugged-out" (TimeOut).
Served on a bedrock of churning and fractured funk from the telepathic rhythmic architectures of Hayward and Doyne-Ditmas, DJ BPM builds flickering ghost storms of sound that mesh thrillingly with Edwards' serpentine guitar.
//www.v4vband.com/
AMA//MIZU
Ama//Mizu is the newest project from multi-instrumentalist Douglas Pisterman. Inspired by the escapist rhythm of electronic music and the vivid narratives of folk, between the loud flicker of a light and the overarching silence. This dichotomy is where lies AMA//MIZU's core, reflective and yet hyperactive. Seeking inspiration as diverse as Dirty Projectors, I:Cube and Scott Walker, AMA//MIZU is defined by a desire to seek authentic and unusual sounds. Whether it is a circuit bended drum machine or pieces of wood, anything becomes a tool in his South London based bedroom studio. It is from the confinement of the producer's small space, surrounded by urban settings, that the songs take shape before being enhanced and deconstructed by a trio of live musicians, and finally brought to life in the mixing room, with the complicity of Ash Workman (Metronomy, Christine And The Queens). Debut EP "Discordant In Colour" has just been released via SaS Recording. Rising noir-indie-folk talent EERA even lends her voice to EP closer 'Fil De Lune', a captivating downtempo ballad tainted in jazzy horns and sang in French.
//soundcloud.com/ama_mizu
//amamizu.bandcamp.com/
UYUNI
Uyuni is a project born of Italian musician Nicola "Lompa" Lombardi (guitars, synths, loops, voice). His passion for the expressive language of fingerpicking acoustic guitar music (from John Fahey to American pre-war folk and blues) intertwines with a taste for more contemporary sounds and structures that come from psychedelic, electronics and ambient-noise. Uyuni's full lineup includes Inserirefloppino (drums, electronics) and Alice Berni (piano, synths, voice).
//www.facebook.com/UYUNIUNI/
//uyuniuni.bandcamp.com/
RSVP to the Facebook event page and invite your friends here