Krampus Nacht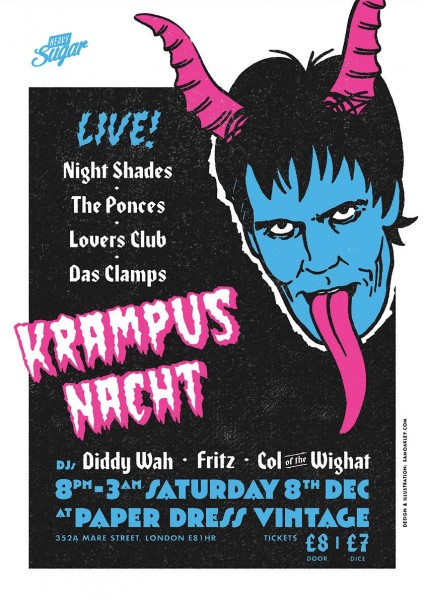 Pagan folklore describes a horned creature – half goat, half demon. This horrific beast is Krampus. He pals around with Saint Nick (aka Santa Claus) doling out punishment to naughty children.
Music folklore describes a band of rock'n'rollers – half hillbilly, half punk. Led by Lux, a garbageman, and Ivy, a she-devil, these are The Cramps and they got good taste.
Let's honour The Cramps this Krampus with a god-damned rock'n'roll party!
NIGHT SHADES – London-based garage punk, rock'n'roll band playing noisy, darkly romantic and inescapably haunting sounds. Night Shades
THE PONCES – Eclectic musical concoction of rhythm'n'blues, rock'n'roll punk, jazz and Latin exotica, with original ambiguous lyrics. The Ponces
LOVERS CLUB – The best rock and roll band in the world. Lovers Club
DAS CLAMPS – Two piece band in shape of clams doing Cramps covers, tunes that The Cramps loved and their own crampy songs. Das Clamps
DJs: Diddy Wah (NTS Radio), Fritz (Buzzsaw Joint), Col Of The Wighat (Lux Lives)
Tickets £8/£7 advance through DICE