Paper Dress Xmas Bash, Presented By SOTSA!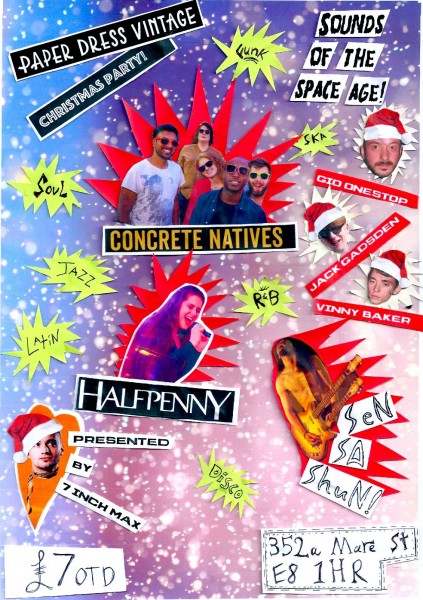 Paper Dress Vintage and Sounds of The Space Age are teaming up to bring you the most soulful Xmas party this year! (probably). Guest DJs Gio Onestop, Vinny Baker and Jack Gadsden are guaranteed to make you party so hard, you won't be arable to think straight for rest of the month!
Killer funk n' soul line up below…
Headliners..
Concrete Natives, incorporating a blend of soul, rock'n'roll and the blues with contemporary influences coupled with an electric live performance, they deliver a fresh take on the classic New York funk sound.
Support from..
Halfpenny, Drawing from Hip-Hop & Jazz influences, Halfpenny blend hard hitting beats with live instrumentation, melodic vocal hooks & astute rapping lyrics
Sen Sa Shun, Japanese-Brazilian Funky Psychedelic Rock'n'roll Punk band formed by three musicians from around the globe!
hosted by 7 Inch Max!
RSVP to the Facebook event page and invite your friends here!