LOS PEPES Christmas Special!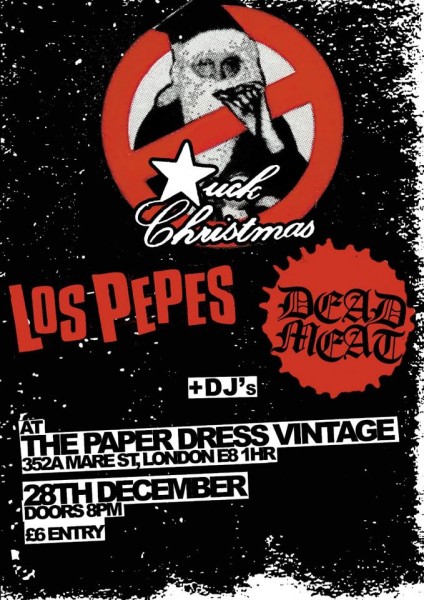 Los Pepes converge on Paper Dress for a festive party! Featuring live sets from..
THE ROCKAWAYS
– RAMONES cover band – formed for one night only! Expect all the best and obscured Ramones hits played by a supergroup featuring members of The Caveman, Newtown Neurotics, Los Pepes, The Speedways and one very special guest TBA!
LOS PEPES
– The loudest powerpop band on earth…The Motörhead of powerpop! No hit wonder 60s and 70s garage pop melodies drowning in a wall of punk rock guitar. Good Vibrations records served up with a Testors punch in the face. Songs about love, antipathy and getting up to no good, that'll stick in your head and leave your ears ringing. Cutting out a reputation for being a relentless high-energy punk rock whirlwind live, Los Pepes have also left a bunch of 7"s and three LPs in their wake – "For Everyone" – 2014 "All Over Now" – 2016 and "Let's Go!" – 2017 all via Wanda Records.
Formed in London by front man Ben Perrier, Los Pepes is an international organization with international members from the UK to Japan to Brazil to Poland. Born thousands of miles apart but all with the shared experience of growing up hooked on punk and not letting anybody tell you what to do, Los Pepes is living proof that rock and roll is a global force of nature. If you too like rock and roll, get with it and join Los Pepes whenever they hit town. You need it!
DEAD MEAT
Featuring members of The Cavemen, Lovers Club, Slugga (Atlanta) and The Speedways, Dead Meat are a dose of smoking ban friendly stupid, shitty punk formed from the dropping of a one (two?) off covers band, The KBDS. Bloodstains over North London. Dead Meat sounds like hundred of other bands and aren't as good as 60% of them, there's a fine line between brilliance and stupidity and Dead Meat are constantly crossing it.
Http://deadmeatpunk.bandcamp.com
Plus special guest DJs till late!
RSVP to the Facebook event page and invite your friends here!