IVW: Me and the Moon, I Said Yes, Callum Pitt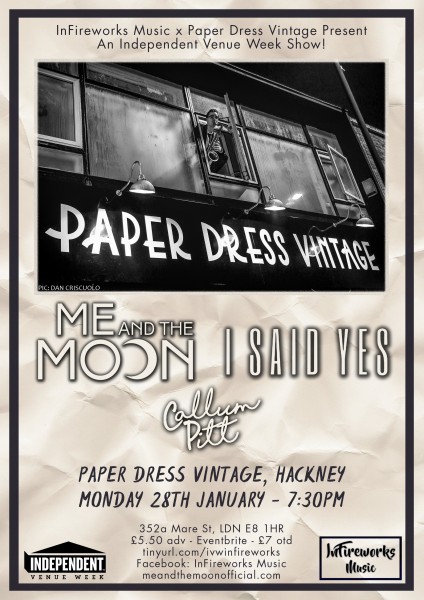 InFireworks Music proudly present an Independent Venue Week show at Paper Dress Vintage in Hackney.
IFM have loved Paper Dress for a while now and it's a thrill to be going back in such an important week in Live Music. We've always tried to champion Independent new music and we'll be doing so with three amazing acts.
Me and the Moon ( //meandthemoonofficial.com ) ( //www.youtube.com/watch?v=buw7It4BeLc )
I Said Yes ( //isaidyes.bandcamp.com/?fbclid=IwAR139vrvNW1J6_pagw7mQ8ea2ffxpsRY2CrfiusV4_1U8-UvOuLBfvA8T94 )
Callum Pitt ( //www.callumpittmusic.co.uk/ ) ( //www.youtube.com/watch?v=AWlOFofJOOc )
RSVP and limted advance tickets available here!
Label Mates Festival 2019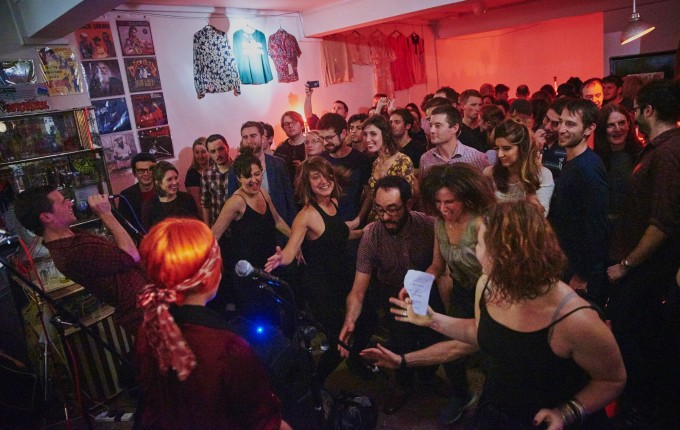 Bad Vibrations is delighted to announce the return of Label Mates on 25 -26 January 2019. Now in its fourth year, the multi-venue festival will take place over two days across some of Hackney's most beloved venues, bringing together a number of great independent labels from the UK and further afield in support of the live music scene.
Throughout the weekend, stages and acts will be hosted and curated by Ac30, Burger Records, Blak Hand Recordings, Brain, , Dischord, Fuzz Club, Handsome Dad, In The Red, Moshi Moshi, Rocket Recordings, Speedy Wunderground, Meat Machine, Mexican Summer and plenty more are still to come.
The first wave of acts includes a headline show from Michael Rother who plays material from NEU! Harmonia & Solo Works at new multi-arts space EartH. Also included are Nov3l & Pill who play at The Shackelwell Arms.
More showcases are due to be announced over the coming months with day-long programming at Shacklewell Arms, Moth Club, The Waiting Room, Rough Trade East, The Victoria, Oslo, EartH, Night Tales, Paper Dress Vintage and Hackney Showrooms.
SATURDAY GOLDEN TICKETS – ACCESS TO ALL SHOWS
LINK: www.seetickets.com/event/label-mates-festival-saturday-golden-ticket/various-hackney-venues/1289704
SATURDAY SILVER TICKETS – ACCESS TO ALL SHOWS EXCEPT MICHAEL ROTHER and THE MESSTHETICS
LINK: //www.seetickets.com/event/label-mates-festival-saturday-silver-tickets/various-hackney-venues/1289705
INDIVIDUAL SHOW TICKETS ON SALE FOR FRIDAY AND SATURDAY SOON…
Mind Fundraiser ft. Chaps Choir, Ukulele Ska Collective + 80s club night!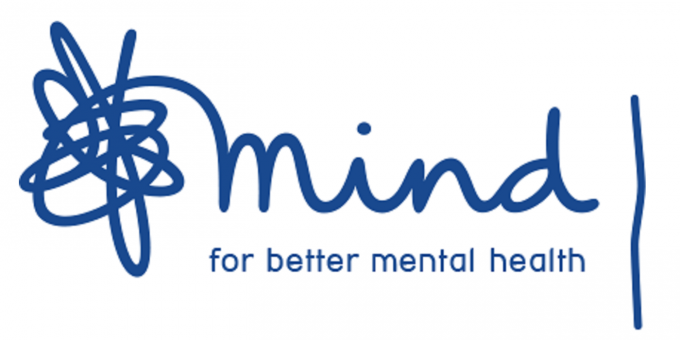 This will be a huge party as we bring together 40-piece strong Chaps Choirfor a big January knees up with 11-piece party starters the The Ukulele Ska Collective plus support from Samantha Whates to raise funds for mental health charity Mind.
After the live music we'll be running till 3am with our regular last Friday of the month fun fest that is Paper Dress 80's Club!
It's also the Friday of a busy week for us as part of our programming for Independent Venue Week so come down and support a great charity, Mind, as well as supporting your local independent music venue!
CHAPS CHOIR
//www.facebook.com/ChapsChoir/
The Chaps sing songs from across the world, combining surprising choices with deft arrangements, always with an added chappist twist. Prepare for pop song re-hashes snowy hunting calls, Manhattanite observations, self-aware pirates and, well, lots of men singing.
Since the choir first gathered, the Chaps have sung in The Royal Festival Hall, The Roundhouse, Natural History Museum, appeared at Daylight Music, Port Eliot, Citadel, The Young Vic Theatre and return regularly to their local Islington venue The Union Chapel.
UKULELE SKA COLLECTIVE
//www.facebook.com/ukuleleskacollective/
11-piece group from Hackney playing ska classics and ska versions of classics on electric ukuleles, with full bass and drums, melodica, accordion, dustbin bass, and of course kazoos. Expect catchy, fun, singalong, danceable ska tunes, from Prince Buster to the Specials and Toots and the Maytals.
SAMANTHA WHATES
//www.facebook.com/samanthawhatesmusic/
Paper Dress favourite Samantha joins us for a set of sweet folk songs and a guest spot with the Chaps later in the evening – get down early to catch her – on-stage 8.15pm
And after the live music we'll be hosting Paper Dress 80's Club till 3am!
Featuring music from:
New Order / Talk Talk / Human League / Echo & The Bunnymen / Tears For Fears / Devo / Gary Numan / Depeche Mode / The B52's / The Smiths / Frankie Goes To Hollywood / Simple Minds / The Cult / The Outfield / Tom Tom Club / The Cure / Madonna / A Flock Of Seagulls / ABC / U2 / Michael Jackson / Prince / Bruce Springsteen / Hall & Oates / David Bowie / Wang Chung & loads more.
£5 suggested donation or whatever you can afford!
L&F + Nim Quartet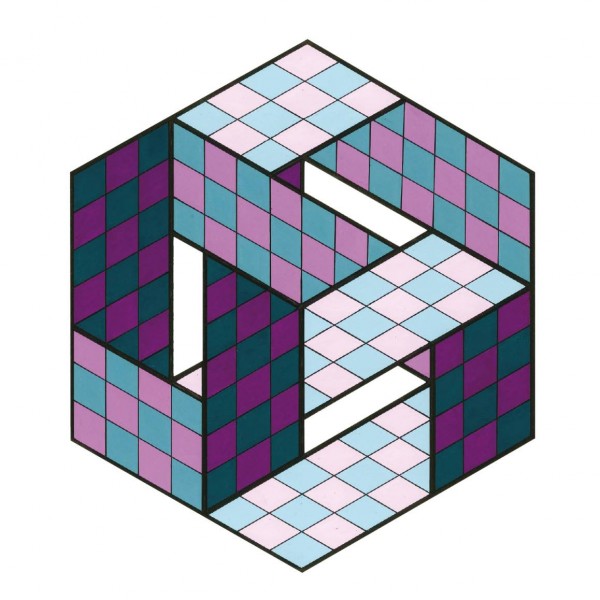 Jazz tinged bill double-header as we welcome L&F and Nim Quartet for a co-headline show
Limited advance tickets available here
NIM QUARTET
The project of London based bass player Nim Sadot who conjures up a magical mix of instrumental fusion jazz.
nimquartet.bandcamp.com/releases
nimquartet.com
L&F
//www.facebook.com/LandFOfficial/
Having performed together in many different musical combinations from straight ahead jazz to four on the floor electronic dance music, Juba (drums), Oli (baritone sax) and Hamish (keyboards) had the idea sometime in late 2016 to get together for a jam and write some groove ideas.
The initial blueprint of irregular yet accessible grooves coming from the bass, drums and sometimes sax, higher up with the emphasis being on spacious melodies and harmony with a consistent blend of organic and digital timbres are all very much a key part of the conception of this project. 
Substance presents Diaphragm Failure, Fake Turins, From the Cave
Substance presents Diaphragm Failure / / Fake Turins // From the Cave
Limited advance tickets available here!
Diaphragm Failure 
Art / Punk
Ex-shabby and current blabby members with hairdresser horns and sometimes ipod theramones.
Completely improvised musically and lyrically, uncomprimising dark edges and a suprisingly pop overtone…
//www.facebook.com/Diaphragm-Failure-101189396620892/
Fake Turins 
alternative electronic / artrock
//turins.bandcamp.com/releases
From the Cave 
From The Cave is a London based independent band.
//www.facebook.com/fromthecaveband
£6 in advance / £8 OTD / £5 N.U.S (OTD only)
RSVP to the Facbeook event page and invite your friends here!