AmericanaFest UK Showcase Festival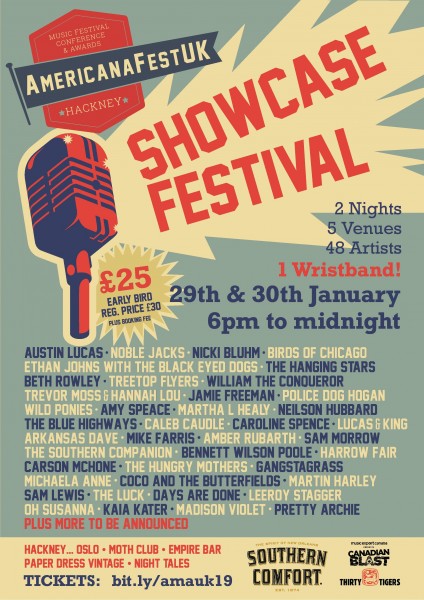 TWO Nights – FIVE Venues – FORTY EIGHT Artists – ONE Wristband
Over two nights there will be forty eight artists from across the UK, USA and Canada showcasing. You just need one wristband to gain entry to all five venues over two nights.
2019 Showcase line-up:
Sam Lewis
Gangstagrass
CoCo and the Butterfields
Days Are Done
Martin Harley
The Luck
Birds of Chicago
Austin Lucas
Lucas & King
Jamie Freeman
Police Dog Hogan
Wild Ponies
Amy Speace
Martha L. Healy
Noble Jacks
The Blue Highways
Caleb Caudle
Caroline Spence
Arkansas Dave
Nicki Bluhm
Mike Farris
Ethan Johns With The Black Eyed Dogs
The Hanging Stars
Neilson Hubbard
The Southern Companion
Bennett Wilson Poole
Beth Rowley
Smith & Brewer
Amber Rubarth
Sam Morrow
Treetop Flyers
Carson McHone
The Hungry Mothers
William The Conqueror
Michaela Anne
Trevor Moss and Hannah-Lou
Pretty Archie
Oh Susanna
Madison Violet
Harrow Fair
Kaia Kater
More Acts TBA.
The final price is £30 but we have great Super Early bird price for you starting at £22 (includes booking fee)