DHP Presents: SOHAM DE + special guests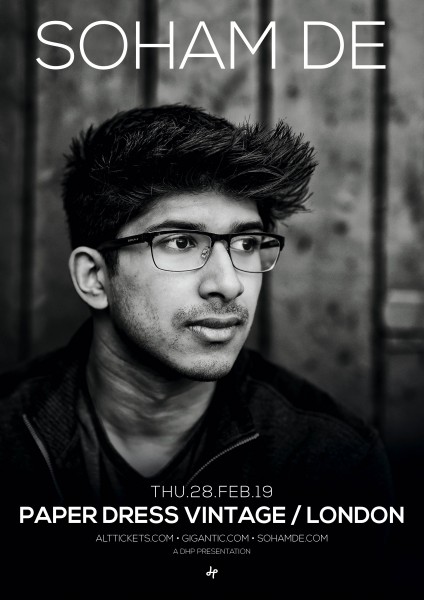 DHP Family Proudly Presents:
Soham De
Live at Paper Dress Vintage
28/02/19
Plus special guests
GRACE GILLESPIE
TOM POINTER
Tickets are on sale now: //www.alttickets.com/soham-de-tickets
Daniel Land – London Album Launch Show – Plus Special Guests

Daniel Land launches his new album 'The Dream Of The Red Sails' with a full-band headline performance at Paper Dress Vintage
//danielland.co.uk/home
//www.facebook.com/daniellandmusic
//danielland.bandcamp.com
Limited advance tickets available here
——————————–
The first Daniel Land & The Modern Painters album, 'Love Songs For The Chemical Generation', was called "One of the finest shoegaze-tinged, ambient guitar records of its time" by Drowned In Sound, and "Like Slowdive reimagined by Phil Spector" by the NME. It is now widely considered to be a modern classic of the shoegaze genre, with Daniel a "Dream Pop cult hero" in the words of The Skinny – releasing records on his own label, and known only to the Shoegaze cognoscenti.
Ten years on from 'Love Songs For The Chemical Generation', Daniel's new album, 'The Dream Of The Red Sails' is a return to the classic Shoegaze/Dream Pop style for which he is better known, and Daniel will be touring the UK in February and March, performing songs old and new, with a full live band.
——————————–
A dazzling array of atmospheric, mesmerising excursions, serves up a whole range of twists and turns with every subsequent listen.
– DROWNED IN SOUND
Completely out of fashion with the popular music of today, bearing no relation to anything else being made. And I love it to pieces.
– THE LINE OF BEST FIT
You can't help but think this is the kind of thing the late John Peel would have loved.
– ROB DA BANK, BBC RADIO 1
His voice soars, like the spawn of Liz Fraser and Antony Hegarty in space. This is the sort of thing Daniel Land & the Modern Painters make you write. They should feel deeply ashamed.
– THE GUARDIAN
Spilt Milk & Alabaster dePlume: Jenny Moore's Mystic Business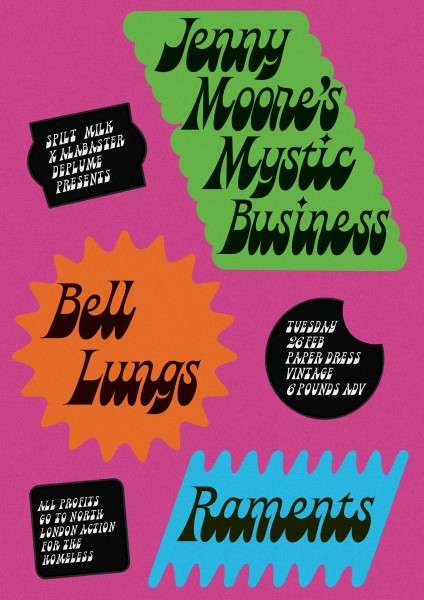 Spilt Milk & Alabaster dePlume have teamed up to bring you an evening of music and spoken word to raise money and awareness for North London Action for the Homeless.
Compered by Alabaster and with live performances from…
JENNY MOORES MYSTIC BUSINESS
Jenny Moore is a composer / drummer / singer / artist and her Mystic Business is an ensemble using drums, tuned percussion and voices. From deep unison chants to psycho-sexual choral pieces to sardonic xylophone pop, Jenny Moore's Mystic Business is a post punk blast through self-made mythology and joyful cynicism.
//theaudaciousartexperiment.bandcamp.com/album/s-t-7
bell lungs
Multi-instrumentalist, vocalist and composer bell lungs encompasses influences from psychedelia, jazz, noise and folk to create a nuanced sound that has appeared on Stuart Maconie's Freakzone, and BBC 3's Late Junction.
Raiments
Raiments are a Berlin-based avant garde musical collective, the brainchild of lead vocalist and multi-instrumentalist Mano Camatsos. Mano's unorthodox electric guitar style is inspired by hip hop, ethnological recordings and 20th century classical music. His abstract lyrics meet an ever- rotating procession of strings, woodwinds, brass and electronics all held down by a locked groove.
£6 OTD
All profits will go to North London Action for the Homeless.
North London Action for the Homeless is a small charity that runs a drop-in centre based in Stoke Newington, Hackney for homeless people and for those in needy circumstances, and provides a three-course vegetarian meal free of charge.
RSVP to the Facebook event page and invite your friends here!
Crosstown Concerts Presents: Meadowlark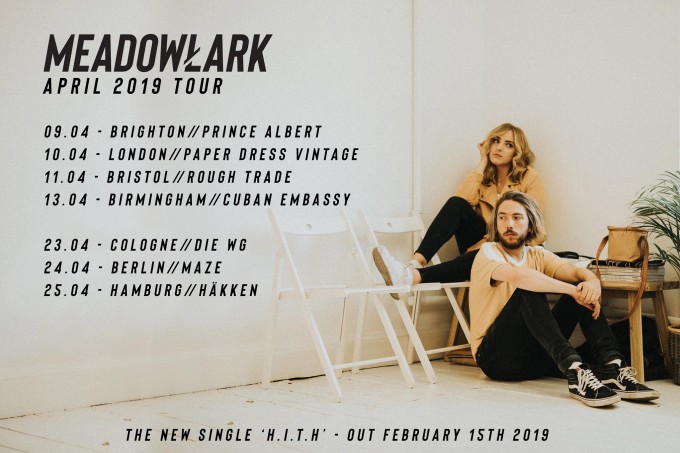 Headline show for Meadowlark
Limited advance tickets available here
Special guests to be announced
Paper Dress Presents: The Caress, Green Seagull, Vouchers, ZELT

A bumper Saturday night curated by The Caress and topped off with a Glamorous Rock n Roll Indie Disco till 3am
The Caress
Alternative 5 piece based in South East London, inspired by Scott Walker and Phil Spector's Wall of Sound.
Their latest self-released single 'Bruiser', produced by Ed Boogie (Boy Azooga & Buzzard Buzzard Buzzard), has been supported by Steve Lamacq and Abbie McCarthy.
Green Seagull
Green Seagull's blend of ornate psychedelic pop and fuzzed-out garage rock has won them fans all around the globe. Their debut LP 'Scarlet Fever' received rave notices from the likes of Shindig and Record Collector, also garnering a few spins from 6 Music's Mark Radcliffe, Marc Riley and Gideon Coe.
The Vouchers
SE London noise merchants and frustration antagonists, The Vouchers are fast rising on the London scene and have supported Cut Glass Kings as well as headlining an IVW show at Beckenham Arts Lab
ZELT
ZELT is the latest musical collaboration between east London-based musicians David Adams and Phil Seddon.
+ Don't Pity Me presents a Glamorous Indie Rock n Roll Club Night (11pm – 3am) including the likes of: The Smiths / Orange Juice / The Cure / The Jesus & Mary Chain / Echo & The Bunnymen / The Teardrop Explodes / The Stone Roses / Primal Scream / Blur / Oasis / Supergrass / Pulp / The Strokes / Kings of Leon / Franz Ferdinand / Arctic Monkeys / The Rakes / We Are Scientists / The Maccabees / Foals / Bombay Bicycle Club / The Drums & Many More!!
£5 advance tickets available here: //www.songkick.com/concerts/36891794-caress-uk-at-paper-dress-vintage
Free after 11pm