Adam & Elvis // Hot Sauce Pony // Uncanny Valley Girls // Vesu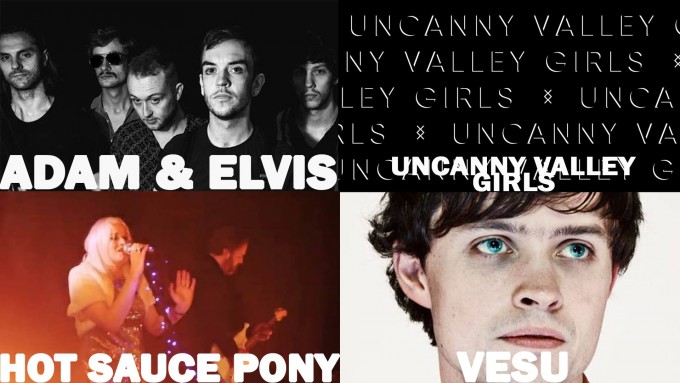 Friday 5 April! Punk sextet from Reading, Adam & Elvis, join us for an evening of Rock n Roll with support from Brixton Avant Hard merchants Hot Sauce Pony, weirdo indie rockers Uncanny Valley Girls & Vesu music opening up proceedings.
Advance tickets via DICE or £5 OTD
After the live music there'll be a club night running till 2.30am – watch this space
ADAM & ELVIS
//www.facebook.com/adamandelvis
"Strangely infectious, it's impossible not to be lured in by the wonderfully wacky energy and quirky charisma of Adam & Elvis." GIGSLUTZ
"Pat Malone's urgent baritone conjures all the best bits of Brian Ferry and Richard Butler, delivering killer zingers with a heavy dose of cynicism." GIGSOUP
"Cut-throat guitars, dirty bass lines and contorted synthesisers are their tools." VENTS MAGAZINE
At the core of the band are the Malone brothers, Pat and Tom who construct songs that are equally as melodic as they are whacky. Sharp guitars, highly driven bass lines and synthesizers are their tools and combined with lyricist Pat's love for comedy and horror, much like his heroes Leonard Cohen and Bukowski, ADAM & ELVIS deliver great blend of fast paced, thought provoking and ultimately catchy music.
HOT SAUCE PONY
//www.facebook.com/hotsaucepony/
Sounds like Julee Cruise playing poker with Stereolab at a Sunn 0))) concert…probably.
UNCANNY VALLEY GIRLS
//www.facebook.com/UncannyValleyGirls/
Weirdo Indie Rock band from South London
//soundcloud.com/uncannyvalleygirls
//www.instagram.com/uvgurls/
VESU
//www.facebook.com/vesumusicmb/
Rich song craft, atmosphere & textures draw together observations on memories, relationships, & freeze frame moments of life.
//vesumusic.bandcamp.com/album/vesu-demo
£5 OTD or in advance via DICE