Fringe Preview: Helen Duff Is The Tits & Big Wendy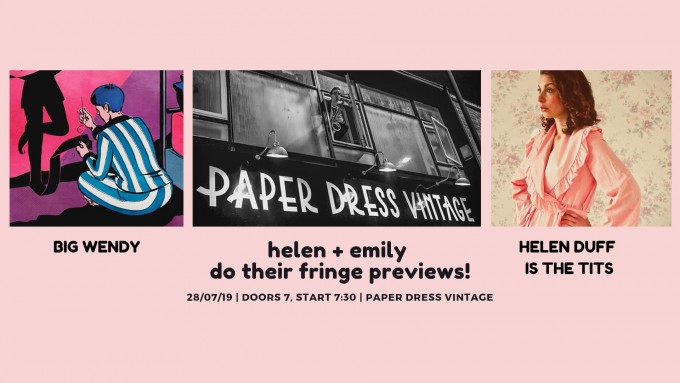 Helen Duff and Emily Benita bring their 2019 Fringe previews to Paper Dress Vintage for one night only!
Free but ticketed and bucketed – ticket link here: //www.eventbrite.co.uk/e/fringe-preview-helen-duff-is-the-tits-big-wendy-tickets-65559053895
BIG WENDY
2018 was going to be Emily's year. Finally, starting to do stand-up and on track to being more funny ha-ha then funny peculiar. Maybe even become a fully-functioning adult human woman. But when her mum's cancer diagnosis becomes terminal, she finds herself on an awfully big adventure. Featuring grief, boys who never grow up and jokes, promise.
As seen on BBC Scotland Short Stuff, one-third of sketch outfit, Ambush, and co-host of Glasgow's grassroots, idiosyncratic comedy night The Salon, this is a preview of Emily Benita's debut solo Fringe hour.
&
HELEN DUFF IS THE TITS
And she doesn't give a damn who knows it.
'Bold, subversive and very funny' **** (Scotsman).
'Deserves any and all praise that comes her way' **** (Skinny).
'Master of shamelessly silly yet socially conscious clowning' **** (BroadwayBaby.com).
As seen on BBC Three and alongside Will Ferrell in Holmes & Watson.
PISCO DISCO: Peru's Indepedence Day!
**** PISCO DISCO: Peru's Indepedence Day EL27-28 **********
******** Food / Drink / Music ********
Join us to celebrate Peru's 198th birthday!!
RSVP, tickets and more info here!
It's that time of the year when Peru celebrates one more year as a Republic, an important date that deserves a proper party. This year we are taking over the super-cool Paper Dress Vintage at the heart of trendy Hackney for an afternoon and evening of world-beat and latin-american controlled chaos featuring DJs and LIVE shows by Billy's Trio (musica criolla) and Manzana Tropical (psychedelic cumbia).
Expect the usual informal and friendly atmosphere, delicious Peruvian food and those curiously strong Pisco cocktails.
We'll start proceedings on Saturday afternoon (2pm) outdoors at the terrace with Pisco cocktails and DJ sets, complemented with mouth-watering Peruvian treats (4pm-ish) and LIVE music from 8pm. Then we'll move indoors for more live music, climaxing at midnight with Manzana Tropical to receive EL 28 in style.
The Plan so far:
Drink (2pm): Pisco Sour, Chilcano and a great selection of craft beers and cocktails.
Food (4pm): Peruvian food including Causa Limena, Papa a la Huancaina, Lamb Seco and Pork Adobado.
LIVE: (8pm) 'Loco' Billy's Trio (8pm ourdoors) / (10pm main stage)
(12am) Manzana Tropical
DJ sets TBA – afternoon and between live shows and till 3am!
Tickets: 7 GBP at the door for LIVE music party
Paper Dress 80s Club ft. Love Volcano + special guests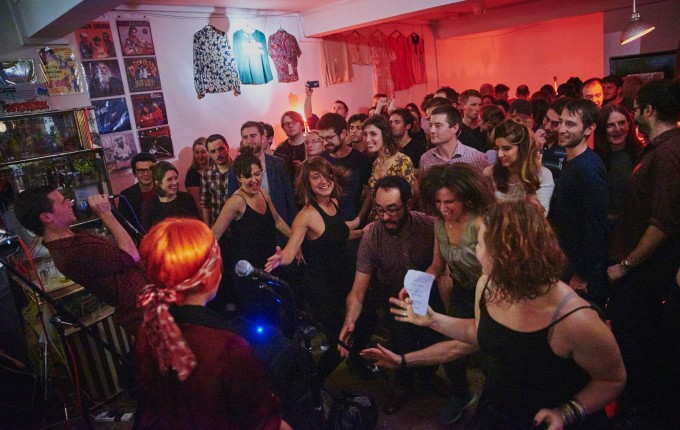 MID-SUMMER FUNK edition of Paper Dress 80's Club featuring Love Volcano who'll be bashing out funky 80s classics plus support from Outer Lines & LUNAFRUIT and an opening set from new wavy arty pop group The Many Few!
After the live music, Paper Dress 80's Club DJs will be playing the hits till 2.30am!
LOVE VOLCANO
//www.facebook.com/LoveVolcanoband/
Love Volcano will bring their seven-piece explosion of the finest dancefloor favourites in typically euphoria-inducing, sequin-sporting exuberance.
They'll have you sweating, singing and slut-dropping before the first blinding guitar solo and key slide is out. Resistance is futile!
They will be donning their snazziest glad rags and hitting the hair spray for a special one off 80s set for your enjoyment.
OUTER LINES
//www.facebook.com/theouterlines/
Jazz Funk!
LUNAFRUIT
//www.facebook.com/itslunafruit/
Soulful Funk!
THE MANY FEW
//www.facebook.com/TheManyFew
New Wavey Art Pop!
£5 OTD // Free after 11pm
Plus Paper Dress 80's Club till late!
Featuring music from:
New Order / Talk Talk / Human League / Echo & The Bunnymen / Tears For Fears / Devo / Gary Numan / Depeche Mode / The B52's / The Smiths / Frankie Goes To Hollywood / Simple Minds / The Cult / The Outfield / Tom Tom Club / The Cure / Madonna / A Flock Of Seagulls / ABC / U2 / Michael Jackson / Prince / Bruce Springsteen / Hall & Oates / David Bowie / Wang Chung & loads more.
Rival Karma EP Launch + special guests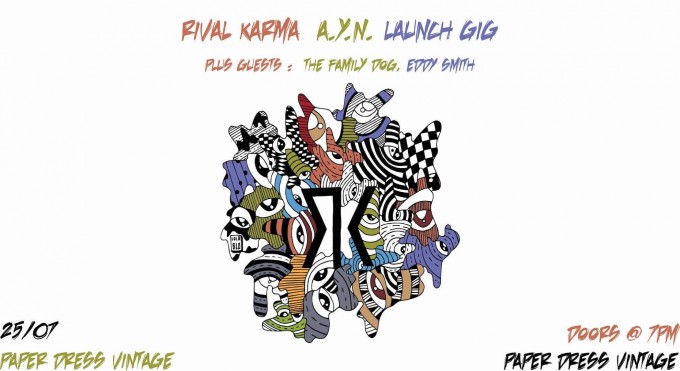 Rival Karma takeover Paper Dress Vintage on Thursday 25 July to celebrate their new EP "A.Y.N"
Here's what they have to say about the evening..
We'll surely have put on some extra pounds from our Italian adventures, but we'll make sure to get you up on your toes and dancing in full summer party vibes.
We're also super excited to have The family dog and Eddy Smith & The 507 alongside us for the night.
Edinburgh Previews ft Cam Spence & Jenny Bede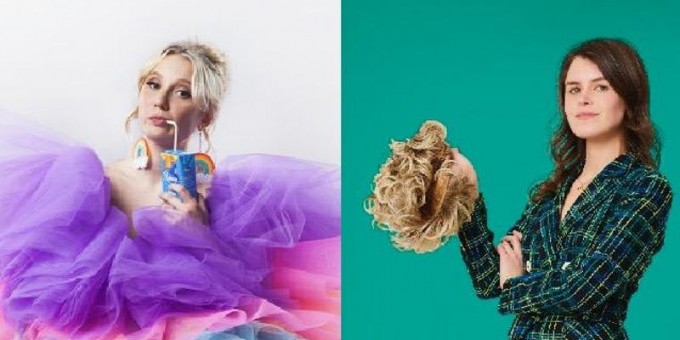 Cam Spence and Jenny Bede are previewing their glorious solo shows for almost the last time before taking them up to glorious Edinburgh! Come along and prepare to feel glorious!
Limited advance tickets available here!
CAM SPENCE: THE SUNSHINE CLINIC
Cam Spence presents an explosive hour of idiosyncratic character comedy. Welcome to The Sunshine Clinic, recently named Recovery Magazine's rehab clinic Closest To The M4! Founder, therapist, and self styled comedian Janet Waitrose wants to introduce you to her stunning patients! Come on in to live, laugh, love, eat, pray, not kill yourself, and love… Cam!
'Comedy genius' (MumbleComedy.net)
'Supremely talented and smart' (Telegraph)
As seen on Channel 4's Riot Girls.
Funny Women Award winner 2018.
JENNY BEDE: THE MUSICAL
Classically trained in musical theatre, comedian, writer and actor Jenny Bede is tired of waiting around for her perfect role. However, much like nationalism and Greggs, musical theatre is having a bit of a moment. Naturally, Jenny wants in on the action. Join the award-winning musical comic (as seen on BBC2, BBC3, ITV, Netflix, Channel 4 and E4) as she attempts to write her own Hamilton and become a millionaire. 'Absolutely set on a collision course with stardom' ***** (Mirror). 'Consistently hilarious; a unique delight' **** (ThreeWeeks).