Rival Karma EP Launch + special guests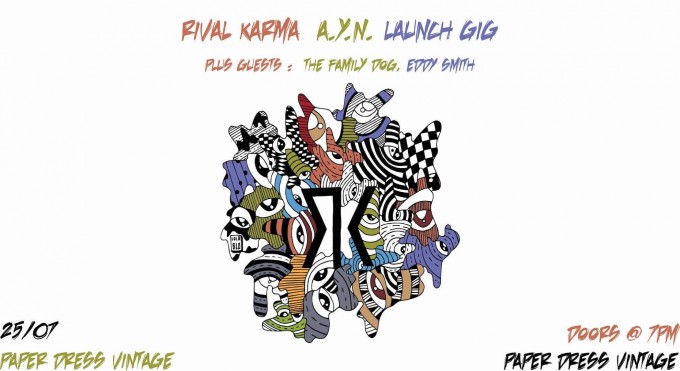 Rival Karma takeover Paper Dress Vintage on Thursday 25 July to celebrate their new EP "A.Y.N"
Here's what they have to say about the evening..
We'll surely have put on some extra pounds from our Italian adventures, but we'll make sure to get you up on your toes and dancing in full summer party vibes.
We're also super excited to have The family dog and Eddy Smith & The 507 alongside us for the night.
UCL Comedy Club's Edinburgh Previews

The UCL Comedy Club are heading up to Edinburgh, they'll be previewing 3 brand new shows with us at Paper Dress..
Deleted Scenes: Student sketch comedy as good as it comes. Watch London's finest sketch troupe UCL Revue present you their finest material, all of it absolutely blockbuster-worthy.
Pilot: An improvised sitcom is the latest brainchild of one of the UK's best student improv troupes. This self-devised, never-before-seen format promises to deliver story-lines and characters you WISH you could binge-watch for hours.
Stand-Ups: Come watch our very best stand-ups lead you through this night of comedy. They're all up-and-coming on the London circuit and boast many a competition win.
More info and RSVP to the Facebook event page here!
Penny & The Pounds, P.M. Warson, Grifter Kid & All Souled Out!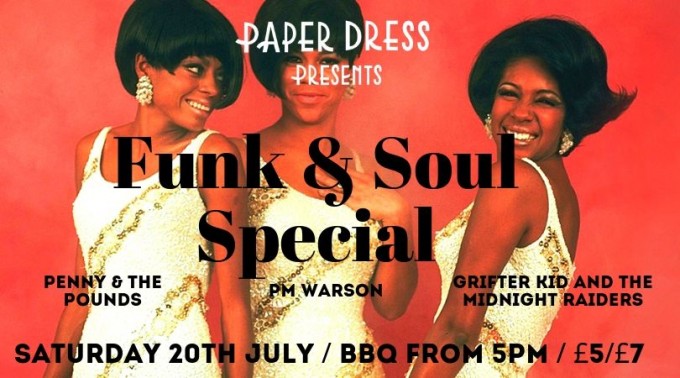 Funk & Soul Special! A mid-Summer evening headlined by our favourite funky party starters Penny And The Pounds plus special guests PM Warson Music and an opening set from Grifter Kid And The Midnight Raiders.
After the live music DJ Perri Kaye will be spinning vintage vinyl all night long with Soul, Funk & Disco classics till 3am
PENNY & THE POUNDS
//www.facebook.com/pennyandthepoundsband/
Fun and funky Stax, Motown and Chess covers band, purveyors of arm-waving, foot-stomping, bum-shaking soul and blues classics from the 60s and 70s!
PM WARSON
//www.facebook.com/pmwarson/
Slowdance with your betty to PM Warson, who channels the likes of the Atlantic, Excello and Chess soul and blues sides from the '50s and '60s, with an outlook for the modern age…
GRIFTER KID & THE MIDNIGHT RAIDERS
//www.facebook.com/Grifter-Kid-And-The-Midnight-Raiders-313607512021422/
Jazzy blues and alt country 4 piece featuring…
Karl Theobald – Guitar , Vocals
Nigel Woolston – Saxophone, Clarinet, Harmonica, Vocals
Rowan Lambourne – Gibbs – Double Bass, Vocals
Russell Marsh – Piano
Plus ALL SOULED OUT club night with Perri Kaye till 3am!
If old soul and disco music is you thing then All Souled Out is for you. Expect to hear music from the 60s, 70s, 80s. Plenty of Motown classics, southern soul gold from Stax records. Plus all the disco classics you could ever want to get you dancing all night long
RSVP to the Facebook event page and invite your friends here!
Bombo's Cuban Carnival Night

A tropical carnival dance night ft Orchestra Bombo, an unstoppable express train of energy, mixing traditional Cuban street carnival sounds with Afro-Cuban folklore, funk and timba. This ten-piece band features heavy percussion, vocals, trumpets and bass.
The evening will kick-off with a Cuban carnival dance class with the amazing Luanda Pau and a live carnival procession in the local area. As well as live music, the night will be pulsating with vintage Cuban and tropical music expertly selected by Hamish Orr.
Dance Class: 7.30 – 8.30. All levels welcome
Price: Live Gig only £8 (advance) £10 (on the door). Live gig ​plus​ dance class £15 (advance) £20 (on the door)​.​
Tickets
//bomboproductions.yapsody.com/event/index/418321/bombos-cuban-carnival-night
Visit our website.
//www.bomboproductions.com/
//www.bomboproductions.com/orchestra-bombo/
//www.bomboproductions.com/cuban-carnival-night-17th-july/
Youtube Clips of Orchestra Bombo
//youtu.be/33nQJPfXB3Y
//youtu.be/dujOwavZoP8
//youtu.be/zK1dyoigH3A
RSVP to the Facebook event page and invite your friends here!
The Purple Lights, Them Things, Hurtling, Lara Smiles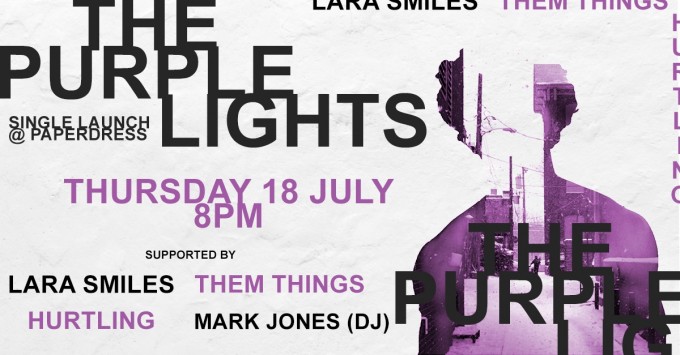 Cut + Paste announce the single launch party for The Purple Lights.
Taking place at Paper Dress Vintage!! To celebrate the release of their new single, 'Lake', out on Our Road Records, July 12th!!
Plus special guests..
Them Things
Hurtling
Lara Smiles
Experience Purple Lights alt. rock offering, with hints of reggae and a sprinkling of pop. This is what happens when Vampire Weekend meet Reginald Omas Mamode IVs, in a surge of Loopstation magic and Afrobeat wig-outs, in this "glorious havoc of sound," Louder Than War.
//open.spotify.com/track/1TttIXt7w4RSX1pShDkr41?si=_R6zUpF9SRONUZzrGOGhgg
Them Things bring their own brand of noise pop, straight from alternate realities, straight out of Newcastle. Experience the dazzling and psychedelic as they set you free on this cosmic journey of loss, destruction, yearning and psych rock healing.
"ravishingly turbulent and uncompromisingly visceral" Bitter Sweet Symphonies
//open.spotify.com/track/1rm5Fg0rdr1Eb25nLjMtjq?si=yhc2Cl6cTZqSkIhpSoff-Q
Lara Smiles unleashes a mesmerising alt. rock sound meshed with an electronic psych grit, as she crafts a sound both infectious and enchanting. Expect the vibrant and uplifting grooves, reminiscent of ESG, with the merged with the mesmerising impact of Karen 'O' and Yeah Yeah Yeahs.
"Electro Pop Alchemist," NME
//open.spotify.com/track/6h29pfUAfQtGmSxqvSNUCN?si=lJmH5NEzTJer6Yn7pSVnaQ
£5 OTD
Early Bird Tix:
//link.dice.fm/ikzmRDg7DX
Flyer design:
Tom Shelton
@tshxltxn