I'm Not From London & Bunkerpop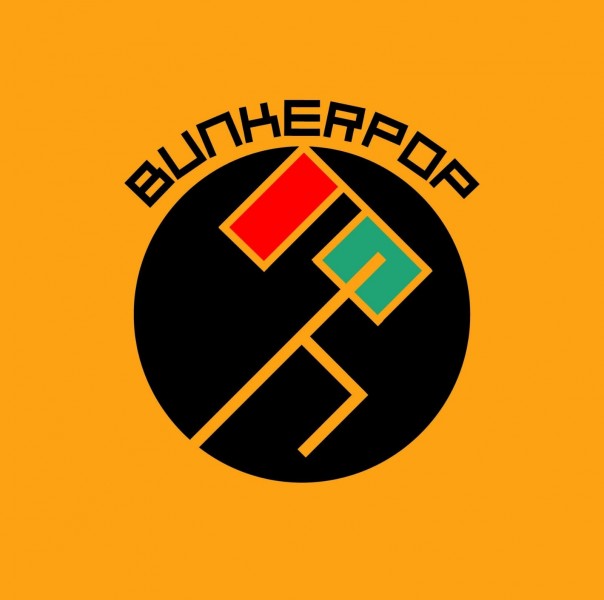 I'm Not From London and Bunkerpop curate an evening of live music at Paper Dress on 29 August
Limited advance tickets available here!
★ BUNKERPOP
* * * * * * * * * * *
Bunkerpop sprang in to being in the spring of 2016 and are a beat driven human machine of five souls combining the hypnotic rhythms of Krautrock with a highly charged supergroove.
Fronted by a man of abstract audio pronouncements they are supreme purveyors of sonic mayhem, dance and audio visual chaos.
File under electro, über tight rhythm & urban mash. Bunkerpop make party. Use it.
Pre order their album here!
//bunkerpopband.bandcamp.com/merch
//vimeo.com/309003821/d7b5700108
//www.facebook.com/HullBunkerpop/
//www.imnotfromlondon.com/bunker-pop-mentality-album-review-bunkerpops-bunkerpop-album/
★ STACEY MCMULLEN
* * * * * * * * * * * * * * * * *
Stacey McMullen is a genre fusing folk artist who uniquely combines multiple world styles of music, moving between Celtic folk, Samba, Flamenco, Blues and much more. Combined with original and provocative song writing, touching on subjects ranging anywhere from love, philosophy and politics, Stacey has started to gather attention both locally and nationally.
Musically Stacey avoids the overused sound of many singer-songwriters, utilising classical finger style guitar and flamenco techniques. Vocally, Stacey takes on multiple personas with different vocal ranges depending on the song, each giving a unique character and mood depending on the story being told.
Buy his EP 'I Wait' here:
//imnotfromlondon.greedbag.com/buy/i-wait-3/
Watch him here:
//www.youtube.com/channel/UCekMicdUBszzAQWd6a1SpVg
Hear him here:
//open.spotify.com/artist/7zNStuGVMKxUqLmomSY6Io?si=hgqPLxOzTdmV955RCBx0QQ
Follow, like and check our pages for more opportunities!
//www.facebook.com/ImNotFromLondonEvents/
//www.facebook.com/WireandWoolRecords/
//twitter.com/Imnotfromlondon
//twitter.com/WireNWoolMusic
//www.instagram.com/imnotfromlondon/
Subscribe to our newsletter :
//www.facebook.com/ImNotFromLondonEvents/?sk=app_100265896690345
*****************************************************************************
ALEX & THE CHRISTOPHER HALE BAND
Heart-breaking musical vignettes that dabble in obscurity and obscenity, but always sincerity.
Alexander Christopher Hale – the frontman (and only member) of Alex and the Christopher Hale Band – writes songs about American history, unusual dreams, and intense loneliness, hiding his tears behind a battered old guitar and a surprisingly-melodic method of singing/shouting. Expect folk-punk hip hop, tediously drawn-out sing-alongs, and heartfelt Shakira covers. Plus jokes!
Tickets here:
//www.gigantic.com/bunkerpop-tickets
ÄTNA + special guests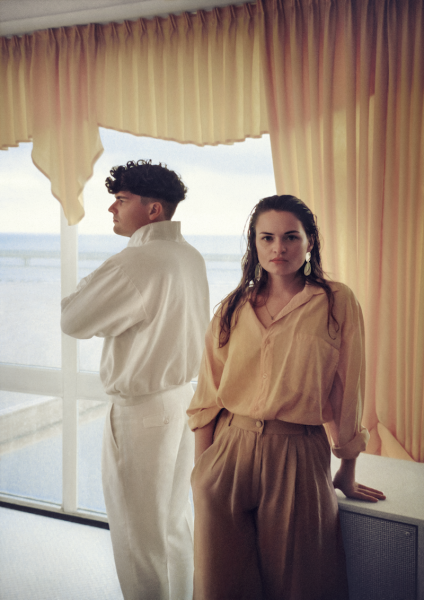 "Somewhere between Björk, Fever Ray, Kamasi Washington and plenty of other references, the dynamic duo created something that is hard to find these days: a sound that is truly unique and fresh compared to most of contemporary music's releases." NBHAP
Ticketlink: //www.universe.com/events/tna-tickets-4P1W9X
//www.youtube.com/watch?v=yB5l0PZWcpk
ÄTNA unfold an energetic, highly percussive, dark and twisted version of pop. Their music is an adventure riding between powerful extremes, whether sensual tenderness or raw fury. From dream state to outburst, the abstract beats, playful piano and determined vocal work of Inéz make switching between multiple moods sound effortless. Their live shows are dominated by presence, intensity and contrasts, resulting in a hypnotic and playful joint venture.
Plus support to be announced!
Sex Swing / Grey Hairs / Agathe Max + Tome Records DJs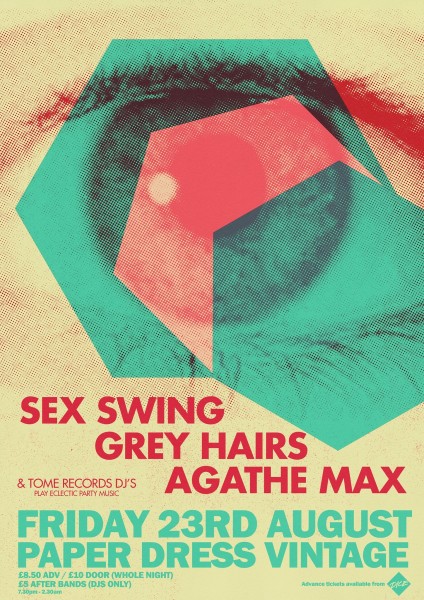 Psychedelic noise-rock supergroup Sex Swing combine traditional elements of noise with mutated organ and saxophone to produce something altogether unique. With support from Grey Hairs, Agathe Max and Tome Records spinning the tunes, it's gonna be a big night.
Very limited advance tickets available here!
SEX SWING
Sex Swing combine heinous volume, brute rhythmic throb and a devotion to twisted concave noise, which is crushingly physical, mentally disorientating and creates a deeply seedy music that speaks of narcotic London nights and drab suburban nightmares alike… while still being pretty good to dance to.
GREY HAIRS
Nottingham rock music group Grey Hairs return with new album "Health & Social Care" scheduled for release on Gringo Records on 2nd August 2019.
10 songs ruminating on life/work balance, aesthetic punks, Dunning-Kruger syndrome in the Health service, extreme 360 degree cognitive dissonance and – most crucially – a confusion and inability to tackle these external problems because you're so f*cked by your own personal ones.
The sound is leaner and more focused. The rhythm section has gone downright weird and the guitar bends and shudders around it with all 3 elements rarely pushing in exactly the same direction giving vocalist James the space to do more than just yell into the void (though this happens plenty). It's an expansion of their sound that recalls the Birthday Party (but without the vampire schtick) or Laughing Hyenas, of a downer-fuelled B52s, or what surf music sounds like coming from the most land-locked part of the country.
AGATHE MAX
Rêves Perdus is the first release from experimental violinist Agathe Max on Modern Aviation. The London and Lyon-based performer has released numerous previous albums
including This Silver String and Dangerous Days. She also is also a part of the duo KURO with Gareth Turner and Mésange with Luke Mawdsley.
Inspired by both the Werner Herzog documentary, Cave of Forgotten Dreams, and her own time working near the Chauvet Cave in southern France, Rêves Perdus is a subterranean journey into deep history and the inner worlds of the mind.
"The finest moment comes in the shape of the sublime near-17-minute "Nebulous Cloud", which sprawls out through treated violin lines, spectral ambient drones, doomy inscrutable reverberations and near-buried percussion undercurrents… A rare and remarkable find." – Concrete Islands .The result is a dark, strange and evocative album that moves between moments of ambient beauty, hushed vocals and vivid drama conjured by her violin.
//musiqueparavion.bandcamp.com/album/agathe-max-r-ves-perdus
TOME RECORDS (DJs)
Excellent Hackney record shop with a great array of awesome records spanning many genres. The guys from the shop will be playing an eclectic mix of party tunes from whichever genre they like but are always fun.
RSVP & tickets available here!
Cultdreams + special guests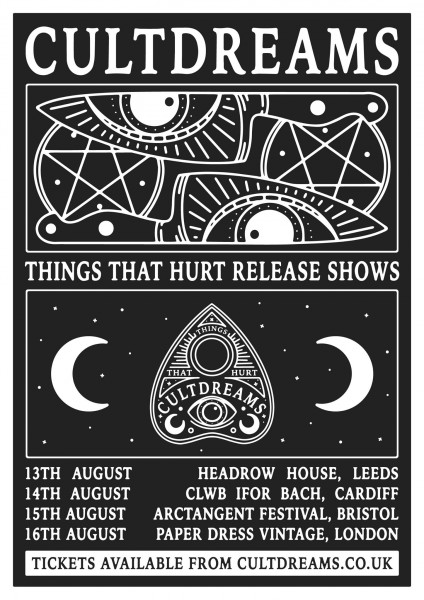 London LP release show for the new album from Cultdreams.
"Things That Hurt" is out on Big Scary Monsters on 16th August
Plus special guests to be announced
More info and RSVP here
£7 in advance
£10 on the door.
Cultdreams (formerly known as Kamikaze Girls)
Since 2014 the Riot Grrrl duo, consisting of vocalist and guitarist Lucinda Livingstone and drummer Conor Dawson, have used music as a means to challenge attitudes and taboos surrounding mental health. Their aim has always been to show their strength and solidarity to other young people in the same position, through their vitriolic fuzz-rock and to work alongside other bands in the scene to help stamp out gender stereotypes in music for good.
KG's sound is an amalgamation of their own pop sensibilities and 90s Riot Grrrl, citing the likes of Bikini Kill, L7 and Sleater Kinney as their main inspiration. The band's raw live shows have become synonymous with the DIY/punk scene and since the release of their first single – 'Tonic Youth' last year – they have played shows across mainland Europe, America and the UK with the likes of Muncie Girls, Pup, The Menzingers, Me Without You, Modern Baseball, Moose Blood, Lemuria, Petrol Girls, Personal Best, Great Cynics, The Winter Passing, Nai Harvest, The World Is A Beautiful Place… and Woahnows, to name just a few.
DRM RLL PLS Summer Party + Shameless Disco

Soho Radio resident DRM RLL PLS, aka DJ Ed Melech, will be taking over the decks of Paper Dress Vintage on Friday 9 August – expect the best in house, disco and techno. Free entry from 11pm.
Plus special guest Shameless Disco.
Before the club night there'll be a live gig – line-up TBA!