Don't Pity Me ft. Whisky Stain, Sannie Fox & THÉA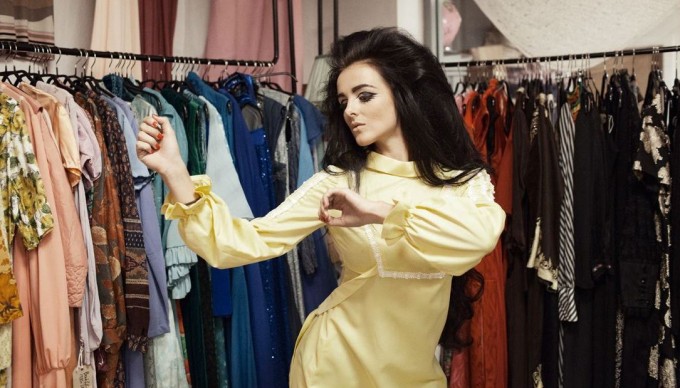 A Rock n Roll triple header featuring dynamic powerhouse duo WHISKY STAIN, soulful psych rock songstress Sannie Fox and her band plus THÉA. After the live music Don't Pity Me DJs will be spinning Disco, Funk & Soul till 3am
£5 OTD / free after 11pm
WHISKY STAIN
//www.facebook.com/whiskystain/
Two piece power house WHISKY STAIN are notorious for their filthy hooks,catchy vocal melodies, huge sonic presence and energetic performances.The Nottingham based duo have been kicking up a storm in the UK with their unique blend of blues drenched licks and dance influenced beats.
The long anticipated 6 track EP Time Waits For No Man hit the shelves late 2018. Track 3 – Skelatone featured on BBC Introducing and was described as a catchy, filthy track taking it to the next level. The boys teamed up with Mornray Films to create an epic Viking-esque promotional video for the title track. Time Waits For No Man is fierce, gritty and packed with bone crunching riffs.
Previously featured on Sky's hit series Ray Donovan; the track The Lord's Revolver demonstrates perfectly Whisky Stain's sonic identity. Intoxicated with heavy riffs drowning in fuzz, pounding drums and the harmonies of a bittersweet gospel hymn proclaiming the beginning of the end, this is Whisky Stain's calling card.
SANNIE FOX
//www.facebook.com/sanniefoxband/
With her voracious voice and fingers to her electric guitar, Fox sways across an evolving sonic tapestry of desert blues, soul and psychedelic rock sounds.
Artist and Album Reviews:
"…Be sure to let your ears witness the mythically marvellous blues riffs and stirring vocals that fill her songs to the brim with soul… If you dig 70's rock or powerful, soulful voices, then this is the rock goddess for you…"
– www.sferical.com (Chicago, USA)
"Fox's voice is soulful, deep and grips the blues by its horns. Her 'analogue-ish', old vinyl sound can be compared to the likes of Etta James and Ella Fitzgerald."
– Tonight Music, Argus (SA)
"…singling out highlights on an album this consistently great seems redundant…"
– Rolling Stone SA on machineri's album
THÉA
//www.facebook.com/itstheamusic/
Plus Don't Pity Me DJs till 3am!
£5 OTD / free after 11pm
Paper Dress 80s Club ft Nat & The Noise Brigade, Katie Moberly +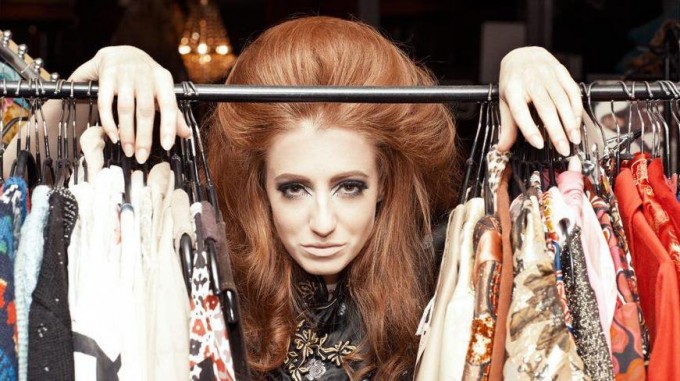 Paper Dress 80s Club's August edition features a headline set from our friends, 8-piece brass party merchants Nat and the Noise Brigade plus special guests Katie Moberly, Bienvenue & Pace.
After the live music our resident Paper Dress 80's Club will be working the dancefloor into a frenzy with a hot selection of the best party tunes known to mankind
NAT & THE NOISE BRIGADE
//www.facebook.com/NatandtheNoiseBrigade/
Hailing from East London, Nat and the Noise Brigade make eclectic, upbeat tunes infested with brass, flutes, and whatever else they can get their hands on.
KATIE MOBERLY
//www.facebook.com/katiemoberly.music/
Katie is a highly talented composer, singer and multi-instrumentalist…expect intricately woven jazz-folk neo-soul compositions and fluency on the bass, cello, ukulele and vocals as she brings her band to the Paper Dress stage.
Having just relocated to South London she is already stirring up a buzz of excitement behind the scenes of the London Jazz World, including BBC Radio 6 Music air-play, in anticipation of her debut release this year.
BIENVENUE
//www.facebook.com/bienvenuemusic/
Bienvenue fuses funk inspired grooves with modern electronic production to create a new wave of British funk.
Combining old school influences such as Parliament and Bootsy Collins, with modern influences including Nao and Mark Ronson. Heavily influenced by the current South London 'Soul Train' jazz & funk scene in venues like the Bussey Building.
PACE
//www.facebook.com/pacemelodies/
"Like an upbeat The National" – Metro
"Almost uniquely contagious, recalling Tobias Jesso Jr. in their easy-going emotion" – CLASH Magazine
"A new favourite of mine. Absolutely beautiful" – Chris Hawkins, BBC Radio 6 Music
£5 OTD / free after 11pm
RSVP to the Facebook event page and invite your friends here!
Simon Love / ACH Band / Lost Cavalry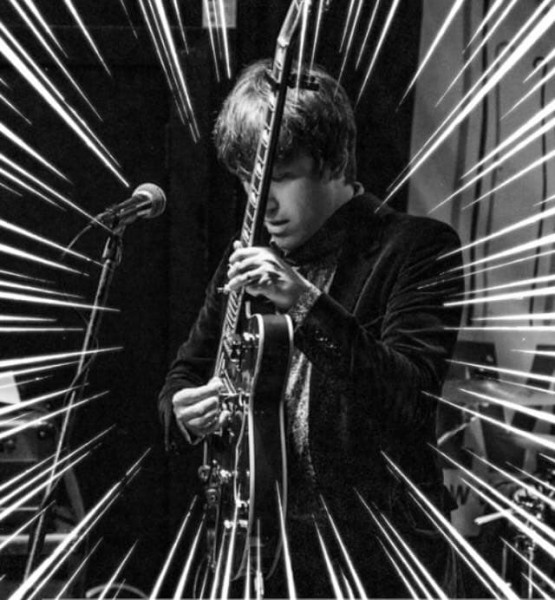 Simon Love And The Old Romantics curate an evening of live music on Thursday 29 August
Limited advance tickets available here
Alex and the Christopher Hale Band are from Nottingham and this is their first ever London show. You can hear their new single "The Worst Way To Die"/"200 Songs" here: //achband.bandcamp.com/
The Lost Cavalry have recently released their sophomore (journalise for "second") LP "Storms". They'll have copies for sale but you can hear it here: //www.thelostcavalry.com/
Tickets £3 / £5 otd
ÄTNA + Grandmixxer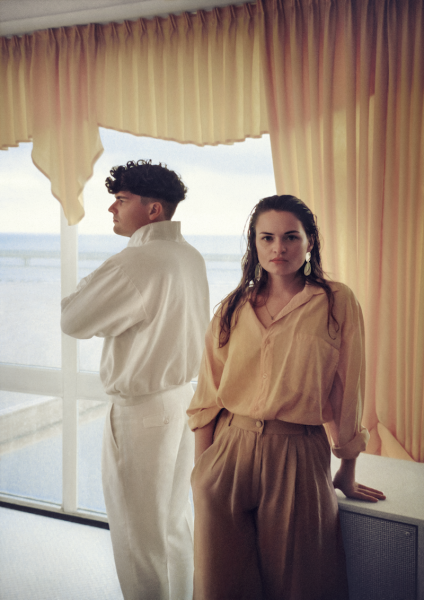 "Somewhere between Björk, Fever Ray, Kamasi Washington and plenty of other references, the dynamic duo created something that is hard to find these days: a sound that is truly unique and fresh compared to most of contemporary music's releases." NBHAP
Ticketlink: //www.universe.com/events/tna-tickets-4P1W9X
//www.youtube.com/watch?v=yB5l0PZWcpk
ÄTNA unfold an energetic, highly percussive, dark and twisted version of pop. Their music is an adventure riding between powerful extremes, whether sensual tenderness or raw fury. From dream state to outburst, the abstract beats, playful piano and determined vocal work of Inéz make switching between multiple moods sound effortless. Their live shows are dominated by presence, intensity and contrasts, resulting in a hypnotic and playful joint venture.
SPECIAL GUEST: Grandmixxer
Grime, Bass and 101% dirt DJ-SET!
Rob Corcoran & Necessary Evils Summer Shindig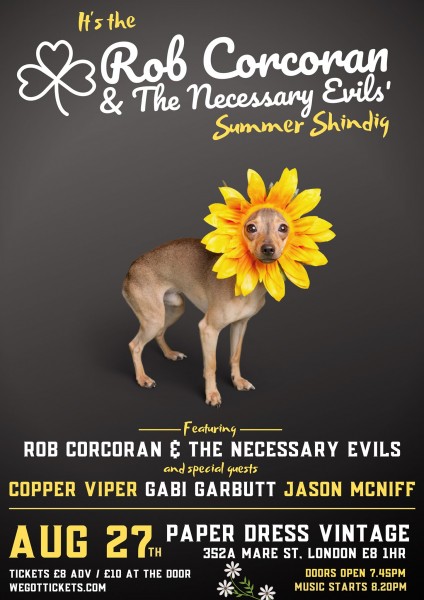 ROB CORCORAN & THE NECESSARY EVILS + really really really special guests: COPPER VIPER – GABI GARBUTT, JASON MCNIFF – at Paper Dress Vintage on Tues 27 August!
Limited advance tickets available here!
ROB C AND THE NECESSARY EVILS
Singer-songwriter; teller of ludicrous stories (most of them true); lauded and covered by folk icon Christy Moore; captain of the amazing musical team known as "Rob Corcoran & the Necessary Evils"; accidental creator of their own brand of "Toe-Tapping, Heart-On-Sleeve Americana…with a Dublin Accent."
"This man Rob can surely sing, and he has a great band behind him. He says something that needs to be said" CHRISTY MOORE
"Songs that weave their spell in intricate and intimate ways / I implore you to check him out because this guy is rather special"
AMERICANA-UK.COM
——————————————————————————
GABI GARBUTT
Literate punk pixie, adopted Londoner and upright social crusader Gabi Garbutt knows a thing or two about beauty. And darkness, for that matter. With a tour with Edwin Collins on the horizon, and the launch of her debut album happening on September 24th (the slaughtered Lamb) the world is her oyster and she's destined for greatness. Go see her now, while you can.
//www.godisinthetvzine.co.uk/2018/03/22/preaching-from-the-pews-gabi-garbutt/
————————————————————————————
COPPER VIPER
Copper Viper is an acoustic folk duo from London, comprised of prolific songwriter and guitarist Robin Joel Sangster and fiddle/mandolin player Duncan Menzies. Drawing inspiration from the British folk and American country/bluegrass traditions.
//www.copperviper.com/
—————————————————————————————
JASON MCNIFF
Jason McNiff is a London based Yorkshireman of Irish and Polish descent. He has made five records of what is loosely described as Folk or Americana, yet there is something very British about him. As Time Out attests, "McNiff's quiet, intimate, fragile-sounding vocals draw you into his world– an almost timeless place, through which he drifts, a romantic loner, a dreamer, at home with the blues." He is often touted as one of the UK's most overlooked musical treasures – a great songwriter and top-notch finger-style guitarist.