Big Scary Monsters Big Day Out!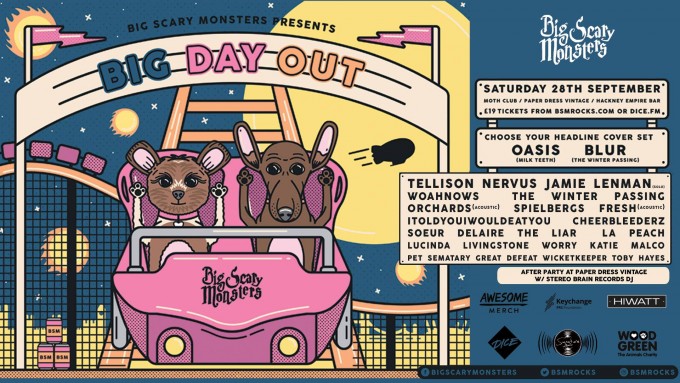 We are gearing up for round 2 of BSMs Big Day Out! Taking place on 28th September, we've pulled together 20 of our favourite artists across three brilliantly unique East London Venues – MOTH CLUB, Paper Dress Vintage and The Empire Bar.
We believe the line up speaks for itself and offers something for everyone. Headlining this years festival are Oasis (MILK TEETH) and Blur (The Winter Passing), playing fan favourite hits from the 90s brit-pop era to close the night in style. Both bands will be playing simultaneously in MOTH Club and Paper Dress Vintage, so ticket holders are advised to pick their bands wisely!
We've also announced our very own Jamie Lenman, Nervus, Orchards and The Winter Passing, alongside our wonderful friends Tellison, WOAHNOWS, Spielbergs itoldyouiwouldeatyou, Sœur Delaire the Liar, Fresh, Worry cheerbleederz, L.A. PEACH Katie Malco, Lucinda Livingstone, PETSEMATARY Wicketkeeper, Toby Hayes and Great Defeat. Stage times will be revealed very soon!
For us, community goes way beyond the music, so we're very pleased to partner with a handful of wonderful organisations this year, including Wood Green, The Animals Charity and The Hackney Foodbank. In addition to this, our friends at Signature Brew will be providing lots of liquid refreshment, while Hiwatt UK (Established Manufacturer) Amps will be helping us to bring the noise.
General Admission £19 – www.bsmrocks.com / link.dice.fm/BSMBDO
Poster by Bloodflower
Paper Dress 80s Club ft. Volk, Chewy She + The Consultants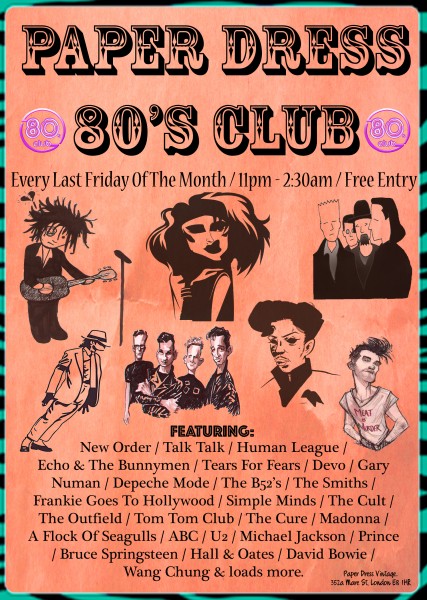 A jam-packed final Friday of the month featuring Volk who'll be launching their new single on the night plus disco punk band CHEWY SHE & genre bending improv band The Consultants helmed by the wonderful Adam Beattie
After the live music our regular final Friday of the month Paper Dress 80's Club takes over the airwaves
Be ready for a ravy dancy Friday!
VOLK
//www.youtube.com/watch?v=Y9nEn4azm34
Volk fuses electronica and post-punk with rock, pop and psychedelia (Bowie, Roxy Music, Flaming Lips).
Led by a Ukrainian/British artist Igor Volk who has previously played in New Young Pony Club (2007 Mercury Prize nominees), Trans (Bernard Butler) and CSS, the four-piece band also includes Isaac Tucker (drums), Alex Bingham (bass) – both from Spektrum – and Dan Bramley on keyboards.
CHEWY SHE
//www.facebook.com/CHEWYSHE/
CHEWY SHE Is an ephemeral electro-disco-punk band. Singing about irreproachable themes like sex, lost loves, mustard or even where do we go when we don't have any ego.
They mix the spontaneity of punk with the precise beat of electro while having melancholic songs that seems to have already been heard in a prom party in 1960s America
THE CONSULTANTS
//www.facebook.com/TheConsultantsBandLondon/
Adam Beattie (electric guitar and vocals), Marco Quarantotto (drums) and Filippo Ferazzoli (electric guitar) collaborate to bring you a heavy and dark blues and groove band. Selecting suitable pieces from Adam's 15 year back catalogue of cross-genre song-writing, they reinterpret for the big stage with live and wild improvisation. So a unique line up of two electric guitarists, virtuosic drums and poetical lyrics, what more could you ask for!?
Adam also plays with PicaPica featuring BBC folk award winner Josienne Clarke and Samantha Whates and Grammy nominated producer/engineer Sonny Johns, a band signed to Rough Trade Records. And he is part of Band of Burns, a 12-piece folk band of singers and instrumentalists.
After the live music Paper Dress 80's Club will be taking over the airwaves
Featuring music from:
New Order / Talk Talk / Human League / Echo & The Bunnymen / Tears For Fears / Devo / Gary Numan / Depeche Mode / The B52's / The Smiths / Frankie Goes To Hollywood / Simple Minds / The Cult / The Outfield / Tom Tom Club / The Cure / Madonna / A Flock Of Seagulls / ABC / U2 / Prince / Bruce Springsteen / Hall & Oates / David Bowie / Wang Chung & loads more.
£5 OTD
RSVP to the Facebook event page here!
Medium Wave Single Launch + special guests
Medium Wave – Single Launch Party
With live sets from:
Medium Wave
All Flags Are Grey
Portamento
Limited advance tickets available here!
More exciting announcements to follow, keep an eye on the Facebook event page here!
Green Note Presents Amy Montgomery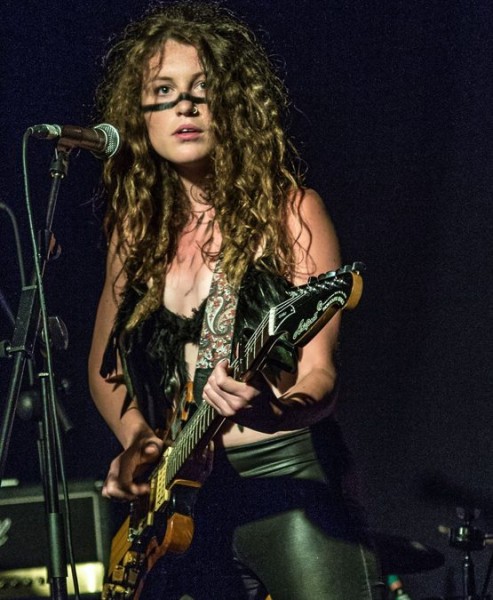 Green Note present a special headline show from the wonderful Amy Montgomery
Plus special guest Amy & The Calamities
Limited advance tickets available here
The first thing that grabs your attention about Irish singer songwriter Amy Montgomery (apart from her Bohemian look) is her raw and beautiful voice honed from relentless busking throughout Ireland. Her vocals seem to channel the spirit of Janis Joplin and Grace Slick whilst also acknowledging her all time favourite Alanis Morissette.
Working with well know NI producer/songwriter/musician Michael Mormecha (Drums) and Zach Trouton (Keys), the threesome deliver a fresh, edgy and original live performance.
Her first single Dangerous blissfully blends gently strummed acoustic guitars with soaring string arrangements and rich electric licks. It picked up plays across BBC Radio Ulster and spot plays on Bob Harris's Radio 2 show.
"If Alanis Morissette and Trent Reznor were to have a baby and then send the baby to be babysat by Joni Mitchell for half the week and the other half of the week be babysat by Janis Joplin, you would come pretty close to Amy Montgomery" Scenestr
"She came on stage with all the attitude of Joan Jett. In feathered bra-top, leather-look leggings, war paint and biker jacket, this girl is ballsy. And she has the voice to match" Mandela Hall Review, Gigging NI June 2018
"She has already been compared to Grace Slick and Janis Joplin, possibly because of the power of her voice, the free abandon with which she sings so naturally and her bohemian look. Tonight, many of the songs could have been lesser known songs of Fleetwood Mac and her gutsy, dreamy, melodic vocals are reminiscent of the legendary Stevie Nicks" National Rock Review
"Astounding voice alert, Amy is a great sonic explorer in the tradition of Janis Joplin and John Martyn" BBC NI Across The Line
Blind Dog Studio Presents Mally Harpaz / Raf and O / Echo
Blind Dog Studio put on their first show at Paper Dress on 24th of September featuring three artists and some special guests.
Limited advance tickets available here!
Multi instrumentalist Mally Harpaz, joined by a small number of phenomenal musicians, will be performing her original compositions from her recently released debut solo album 'Zoom In Zoom Out' . These distinct pieces were mainly written as part of a collaboration with award-winning video artist Clara Aparicio Yoldi.
//mallyharpaz.bandcamp.com/releases
//www.mallyharpazmusic.co.uk
//www.facebook.com/MallyHarpaz/
South-East London duo Raf and O have marked out their widely acclaimed song and sound world over the last decade. Praised for their unique and compelling avant-theatre pop, their 4th album 'The Space Between Nothing And Desire' features 'A Bow To Bowie' a heartfelt song dedicated to the artist himself. Amongst their explorations, Raf and O have set music to Shakespeare, composed for theatre, performed interpretations of early Kate Bush and with special collaborations under their belt, they've played venues such as The Queen Elizabeth Hall and The Union Chapel.
//rafando.com
//www.facebook.com/rafando
Echo Wants Her Voice Back or simply Echo, is a London based singer-songwriter, often described as folk noir with blues rock influences. Echo's distinctive voice, notable stage presence and compelling lyrics have been praised by music publications, with Songwriting Magazine comparing her to the likes of Kate Bush, Lorde, Florence and The Machine, PJ Harvey and Bjork. She self-released a debut EP in 2015, and went on to perform at the 2016 South by Southwest Festival.
//echowantshervoiceback.bandcamp.com
//www.instagram.com/echowantshervoiceback/
//twitter.com/echowhvb
//www.facebook.com/echowantshervoiceback
£8 online/ £12 on the door