General Public ft. Dylema Collective / Footshooter / The Woods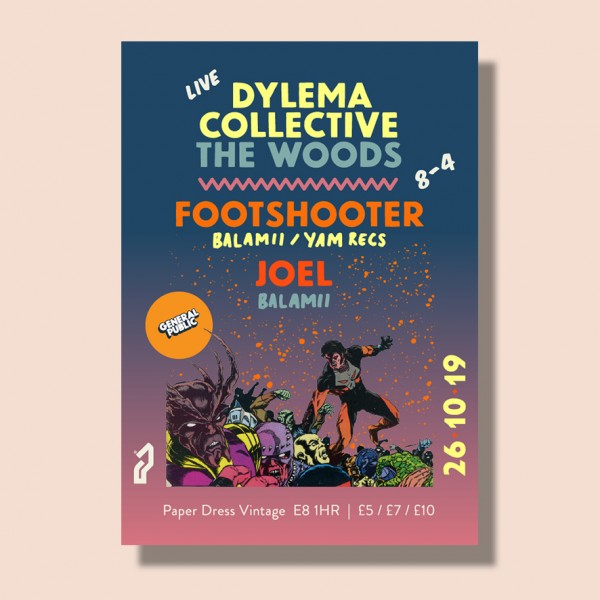 After taking the summer off General Public is back. Bringing an Autumnal all-star line up to the Paper Dress Vintage stage and controls.
Advance tickets (£5 +£1 Booking fee) on Resident Advisor here: //tinyurl.com/y6fj2n4x
RSVP to the Facebook event page and invite your friends here!
Here's what they have to say about what's planned:
"We're very very excited to have Dylema Collective take centre stage on the live line up…
"Sweeet neo-spoken-soul. Dope-ass Funk. Multi-sensory killa-jazz. The kinda music that makes your brain and booty dance."
This is a band NOT TO BE MISSED, sure to make the hairs stand up on end!
Supporting 'Dylema Collective ' we have on the up talent The Woods. Fusing harmonic looped vocals with dreamy synths, broken beats, guitar and haunting keys. With bass lines leaving you with a feeling of ascension. Haling from Scotland now residing in north London 'The woods' is one to definitely keep an eye on.
After the live music…
We have south London beats master Footshooter keeping our feet moving into the early hours. With Productions being released on the heavy hitting YAM records. Finding their way onto Bonobo's boiler room set, NTS, Radio 6 and Jazz FM His wizardry gives ode to 2 step Garage, Dub House, Broken Beats and pinches attitudes of Hip – Hop to create that oh so classic London blend of un nameable dance music. You can catch the extent of his music collection on Peckham's, Balamii radio"
Dylema Collective
Facebook: The Dylema Collective
You Tube: //tinyurl.com/yybe9kqk
Insta: @dylemacollective
Footshooter (YAM Records / Balamii Radio)
Facebook: Footshooter
Band Camp: //tinyurl.com/y2pp6sql
Sound Cloud: //tinyurl.com/y2qapk99
Insta: @footshootersound
The Woods
Soundcloud: //tinyurl.com/yytgpyef
Facebook: The Woods
Spotify: //tinyurl.com/y3qjhzqo
Insta: @ohyeahthewoods
Joel (Balamii Radio / General Public)
Paper Dress 80s Club ft. Slow Mojo, Fergusons, Rotante
Paper Dress 80's Club is back on the final Friday in October with a headline set from blues rockers Slow Mojo plus support from Rotante and a debut gig for Fergusons! After the live music Paper Dress 80s Club DJs will be taking over the airwaves with the finest party music known to mankind – bring your dancing shoes!
SLOW MOJO
//www.facebook.com/slowmojoband/
A 6-piece, high-energy, stage-owning outfit that's twisting up the blues. With a vast repertoire of original material – plus a couple of choice covers including Muddy Waters, Joe Bonamassa and The Doors – they span every genre of music the blues has touched, from
classic 12-bar, to rock, punk, thrash, rock 'n' roll, funk, soul and hip hop.
ROTANTE
//www.facebook.com/RotanteBand/
Rotante are a female-led band making genre bending music with Soulful, jazz, funk, latin, african and electronic sound.
Influences include Sun Ra,Fela Kuti, Azymuth, Esperanda Spalding, Kinny, Herbie Hancock, Alice Coltrane, Roy Ayers, 4 Hero
FERGUSONS
www.instagram.com/__fergusons/
Fergusons will be joining us for their debut gig!
Diego Belmonte, James Dibble, Ed Dolzan and Alberto de Juan will be launching their new project with us at Paper Dress, expect a fusion of alternative rock, psychedelia and jazz!
£5 OTD // Free entry after 11pm
After the live music Paper Dress 80's Club will be playing party tunes till 2.30am!
Featuring music from:
New Order / Talk Talk / Human League / Echo & The Bunnymen / Tears For Fears / Devo / Gary Numan / Depeche Mode / The B52's / The Smiths / Frankie Goes To Hollywood / Simple Minds / The Cult / The Outfield / Tom Tom Club / The Cure / Madonna / A Flock Of Seagulls / ABC / U2 / Michael Jackson / Prince / Bruce Springsteen / Hall & Oates / David Bowie / Wang Chung & loads more.
Chaos Theory Presents: The Display Team EP launch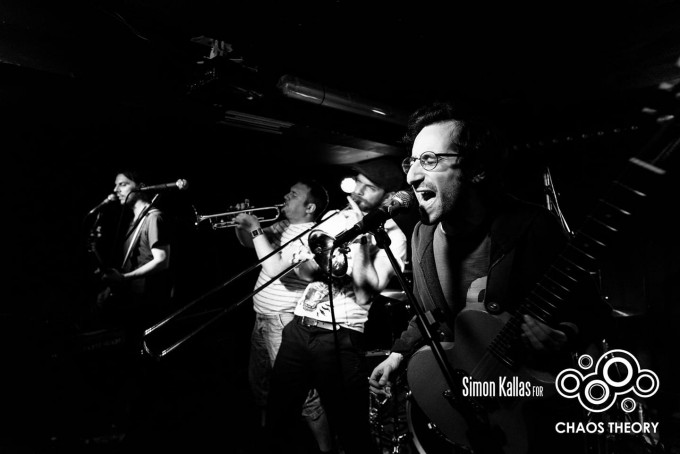 Prog and punk ensemble The Display Team return with another rollercoaster record to make your mind bounce around with giddy joy.
With Memory of Elephants bringing the upbeat noise and math rock, fresh after headlining the PX3 stage at ArcTanGent, and playful prog pop barons Barringtone.
£10 (incl fees) at //link.dice.fm/6p04byEgzY
£12 on the door
Boat to Row + E.W. Harris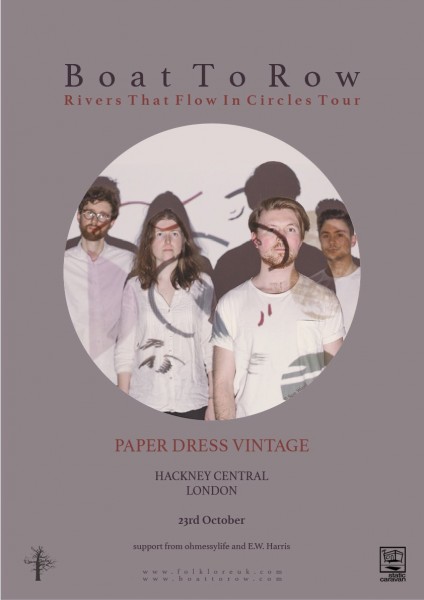 Folk Lore Presents a headline show for Boat to Row plus 2 wonderful supports
Limited advance tickets available here!
"a band to get your ears involved with"
– THIS IS FAKE DIY
​
"simply wonderful"
– JANICE LONG BBC RADIO 2
​
"one of the West Midlands most exquisitely talented folk acts"
– BRUMNOTES MAGAZINE
Boat to Row have previously been supported by BBC 6 Music and Radio 2 and many local stations, and received glowing reviews from websites as diverse as DIY, The 405, Counteract, Folk Radio UK and Gold Flake Paint. They have toured extensively appearing with acts including Slow Club, Johnny Flynn, Willy Mason, Ryley Walker, Kate Rusby, Sweet Baboo and graced stages at many of the country's favourite festivals including Glastonbury, Cambridge Folk, Green Man, Truck, Wood, Moseley Folk, Y Not and No Direction Home.
​
Following the release of their debut album 'I Found You Here' in 2015, Boat to Row have found themselves overcoming many different obstacles record their second album. From line up changes and corrupted hard drives, to losing their practice space when the legendary Highbury Studios closed, the creative flow has not been easily followed.
​
Despite all of this, 'Rivers That Flow in Circles' is an album that sees the band pushing their horizons. Self-produced and recorded in a variety of rehearsal rooms, bedrooms and kitchens, the record showcases the bands most ambitious songs yet. Drawing on band members both past and present, as well as many other musicians from the Birmingham scene, this is an album which works from a diverse musical pallet.
​
The first single from the record, 'Spanish Moss' is a fantastic example of the band's growth as African percussion meets wirey electric guitars over the top of a hypnotic bass line. Just as the song reaches a crescendo it dissolves into a spacious instrumental, where a soaring violin twists and turns over a sea of guitars and synthesisers. Freeing themselves from the constraints of hourly studio rates has been a gift which has allowed the band to turn in an album that is more adventurous and expansive than its predecessor.
​Plus support from..
***
E.W. Harris
In the not so distant future the world looks very different than it does today. An asteroid has collided with the earth. Large stretches of what would now be called wasteland isolate technocratic city states. In one such city, Rocket City to be precise, a slum lord and a techno-hierophant labor in secret. Their goal, to create a new kind of life, and in so doing attempt to glimpse into the future. From this fantastical setting, born from the imagination of ambient folk artist E.W. Harris, comes Homunculus; a mixed media exploration not only of the possible future, but of personhood, prejudice, emotion, and ultimately of ourselves.
Crossfire! ft. Oh!Gunquit, The Trouble & more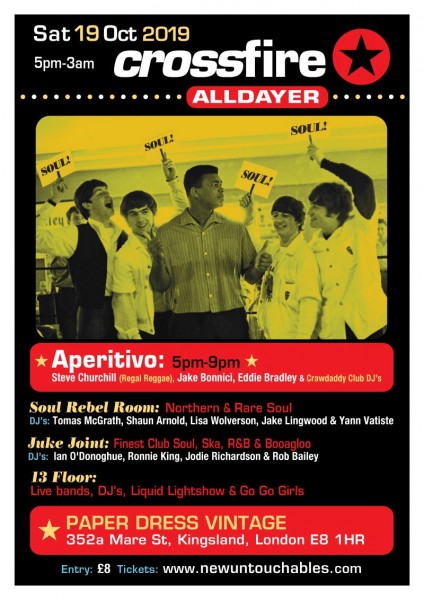 We're delighted to welcome legendary club night Crossfire to Paper Dress for the first time! Expect ten hours of the best music ever made in 3 club rooms for your partying pleasure
Limited advance tickets only £8 available here!
SOUL REBEL ROOM hosts the best in Northern Soul sounds from London Club DJ's Tomás McGrath (100 Club), Shaun Arnold (Walls Of Heartache), Yann Vatiste (Va Va Voom), Lisa Wolverston and Jake Lingwood (Soulshaker)
13th FLOOR with Oh!Gunquit & The Trouble live + DJ's
Dr Robert (Le Beat Bespoke), Lee Petryszyn (Mousetrap) & Susanne Nusbaumer (Hidden Door) spin the wildest 60's Beat, Garage and Psych 45's + Go-Go dancers & Liquid Lightshow.
JUKE JOINT has authentic Rhythm and Blues, Ska/Reggae, Jazz and Boogaloo on the menu from DJ's Ian O'Donoghue (Bande A Part), Rob Bailey (Mousetrap), Ronnie King & Jodie Richardson
From 5-9pm grab a Craft Beer, Prosecco, or Aperol Spritz at OUR APERITIVO party in the Beer Garden. Selectors Stephen Churchill, Jack Gadsden, Eddie Bradley, Jake Bonnici and the Crawdaddy! Club DJ's supply the soundtrack.