General Public ft. Dylema Collective / Footshooter / The Woods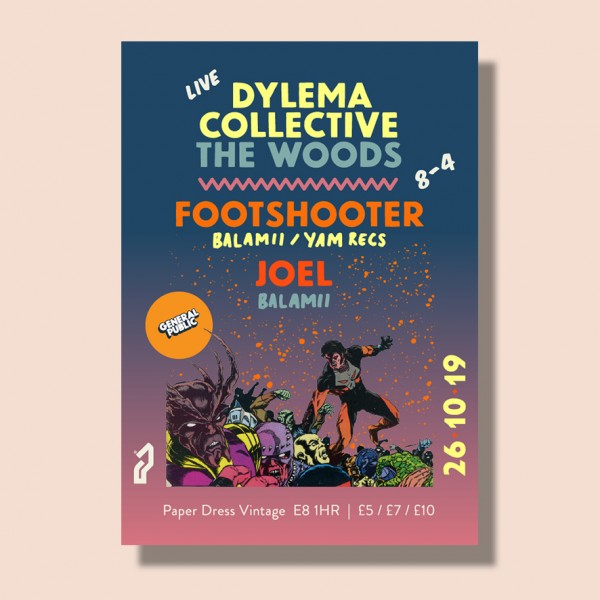 After taking the summer off General Public is back. Bringing an Autumnal all-star line up to the Paper Dress Vintage stage and controls.
Advance tickets (£5 +£1 Booking fee) on Resident Advisor here: //tinyurl.com/y6fj2n4x
RSVP to the Facebook event page and invite your friends here!
Here's what they have to say about what's planned:
"We're very very excited to have Dylema Collective take centre stage on the live line up…
"Sweeet neo-spoken-soul. Dope-ass Funk. Multi-sensory killa-jazz. The kinda music that makes your brain and booty dance."
This is a band NOT TO BE MISSED, sure to make the hairs stand up on end!
Supporting 'Dylema Collective ' we have on the up talent The Woods. Fusing harmonic looped vocals with dreamy synths, broken beats, guitar and haunting keys. With bass lines leaving you with a feeling of ascension. Haling from Scotland now residing in north London 'The woods' is one to definitely keep an eye on.
After the live music…
We have south London beats master Footshooter keeping our feet moving into the early hours. With Productions being released on the heavy hitting YAM records. Finding their way onto Bonobo's boiler room set, NTS, Radio 6 and Jazz FM His wizardry gives ode to 2 step Garage, Dub House, Broken Beats and pinches attitudes of Hip – Hop to create that oh so classic London blend of un nameable dance music. You can catch the extent of his music collection on Peckham's, Balamii radio"
Dylema Collective
Facebook: The Dylema Collective
You Tube: //tinyurl.com/yybe9kqk
Insta: @dylemacollective
Footshooter (YAM Records / Balamii Radio)
Facebook: Footshooter
Band Camp: //tinyurl.com/y2pp6sql
Sound Cloud: //tinyurl.com/y2qapk99
Insta: @footshootersound
The Woods
Soundcloud: //tinyurl.com/yytgpyef
Facebook: The Woods
Spotify: //tinyurl.com/y3qjhzqo
Insta: @ohyeahthewoods
Joel (Balamii Radio / General Public)