Drowned In Noise, Good Manners, The Long Faces, One Tonne Ming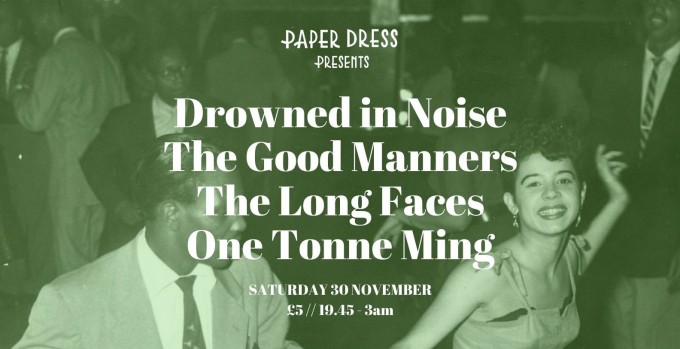 Join us on Saturday 30 November for a headline set from rabble rousers DIN/drowned.in.noise, a single launch from The Good Manners, eccentric psych rockers The Long Faces and Can / Frank Zappa afficionados One Tonne Ming
After the live music we'll be running a club night till 3am – more details on that soon!
£5 OTD before 11pm, free after!
**D.I.N (DROWNED IN NOISE)**
//www.facebook.com/dindrownedinnoise/
Four chaps, four instruments, three voices and a confluence of styles ranging from gypsy jazz to British indie, alternative folk to flamenco and more, The Din are surely hard to pigeon-hole. It's essentially acoustic music, but don't expect sultry ballads… more relentless, upbeat mash-up.
Originating from Newcastle-upon-Tyne they now reside in London, where the notoriety of the band's high-octane live shows has led them to perform regularly across Europe and at many of the UK's top venues and festivals, including Glastonbury and Isle of Wight as well as support slots with Babyshambles, Carl Barat, Adam Green and Frank Turner.
**THE GOOD MANNERS**
//open.spotify.com/artist/20xvpMia68tlgMMmZ01C3U?si=wX370YU9StiiQi5hfkGymQ
Based in London but hailing from Guatemala and Barcelona, The Good Manners are a funky, alt-pop duo. Together with their band, they will be bringing all their groove to the stage! They will also be launching a brand new single with us on the night.
For fans of Anderson Paak, Cosmo Pyke, Mac Demarco and Yellow Days.
**THE LONG FACES**
//www.facebook.com/thelongfaces/
5 piece psychedelic rock band based in London/Leeds
The Long Faces are imagined as interdimensional sound collectors of the colourful kind; moody rulers over sonic sands; subconscious architects – who glide.
Their founders first developed a love of unusual music whilst at school in Canterbury, soaking up the city's rich heritage of progressive rock (Caravan, Soft Machine, Gong) along with contemporary jazz, 60's psychedelia and choral music. Combining agitated, emotive performance and a modern pop sensibility, the group has developed an eclectic style that both recalls its influences and pursues a unique trajectory of its own. It is perhaps this blend of old and new which can explain, in part, the dreamlike sensation at the heart of their sound – surprising yet familiar; abstract and yet relatable.
**ONE TONNE MING**
//www.facebook.com/onetonneming/
Post-punk band with jazz influences that like to play high energy, jam heavy tunes, influences include Fugazi, Frank Zappa and Can.
They specialise in making soundtracks to your late night cooking extravaganza's. Weaving angular melodies bursting with Umami and hot heavy jazz drums infused with only the freshest, line caught wild bass.
7.45pm – 3am
As The Cro Cro Flies x Paper Dress 80s Club!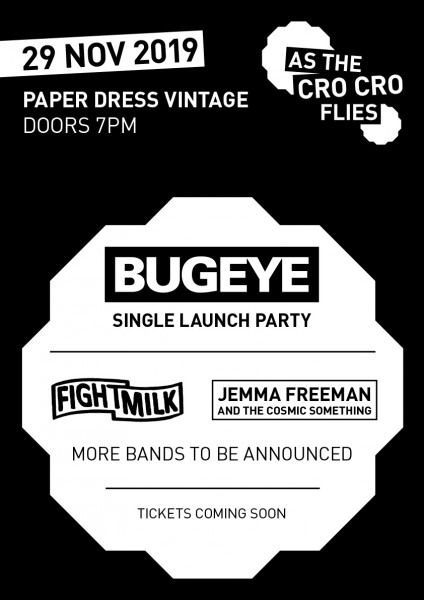 Join us as part of Cro Cro Land Festivals sister brand, As The Cro Cro Flies at Paper Dress Vintage for a Christmas showcase of bands and single launch party for Bugeye.
Expect disco punks and indie sparks flying high followed by an after party with Paper Dress 80s Club until the wee small hours!
Advance tickets via DICE here!
Bugeye Disco punk pop femme-4-piece from London. Fresh off the tour wagon with She Drew The Gun. This is their launch gig for their brand new single 'Electric' – Expect buzz-saw guitar, punch in the face bass, disco beats and more hooks than you can shake a stick at.
Fightmilk The London four-piece released their debut album Not With That Attitude on 2 November 2018 via Reckless Yes. They create sweaty, loud, shouty pop songs about crushing hard, acting out, and running away to solve crimes in Sweden. Blending acerbic lyrics with riffs galore and the urge to dance when you least expect it, Fightmilk revel in a certain inexplicable 90s nostalgia.
Jemma Freeman & The Cosmic Something Lush guitar tones and introspective psychedelic lyrics bound together with unbounded energy. Colliding themes of secret worlds, hidden agendas, apathy and anxiety, Jemma's sonorous voice tells a story of unravelling completely and tying yourself back up again.
Gaptooth
Feminist riot pop from East London. Gaptooth released her second album, 'Sharp Minds, Raised Fists' in October, with songs about smashing patriarchy, anxiety under capitalism and protesting against austerity. This will be the full band experience – expect 90s punk guitars, 80s synth melodies, dancey electro beats and strong riot grrrl vibes throughout.
After the live music…
This will be the last Paper Dress 80s Club of the year so we're planning to go out in style!
80's fashion dress up is highly encouraged!
Featuring music from:
New Order / Talk Talk / Human League / Echo & The Bunnymen / Tears For Fears / Devo / Gary Numan / Depeche Mode / The B52's / The Smiths / Frankie Goes To Hollywood / Simple Minds / The Cult / The Outfield / Tom Tom Club / The Cure / Madonna / A Flock Of Seagulls / ABC / U2 / Michael Jackson / Prince / Bruce Springsteen / Hall & Oates / David Bowie / Wang Chung & loads more.
Scruff Of The Neck Presents: Philip Brooks + special guests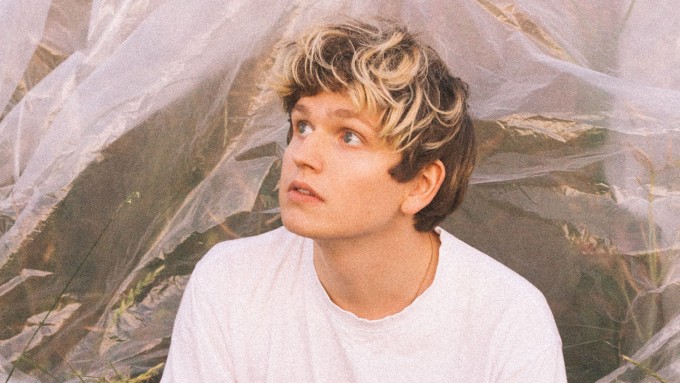 Scruff of the Neck presents Philip Brooks
Limited advance tickets available here!
Where Dream-Pop and Bedroom Pop melt into memorable low-key vibes, songwriter Philip Brooks feels at home.
FACEBOOK: //www.facebook.com/pg/imphilipbrooks/
LISTEN: //open.spotify.com/artist/6Bo5UEoUopq42HZX3apU1w
TWITTER: @philipjbrooks
INSTAGRAM: @philipjbrooks
__________
Plus supports
Jas Ratchford
LISTEN: //www.youtube.com/channel/UCutT3JLhg08Y0_Xfj4SpvVg/featured
TWITTER: @stuffbyjas
INSTAGRAM: @stuffbyjas
__________
Josh Wantie
Singer/producer Josh Wantie lends influences of Electro beats and chilled folk vocals with huge productions to create a unique brand of Futurebass and Deephouse.
FACEBOOK: //www.facebook.com/joshwantenaar/
LISTEN: //soundcloud.com/joshwantie
TWITTER: @JoshWantie
INSTAGRAM: @josh_wantie
__________
Tickets avaliable here: //www.scruffoftheneck.com/event/philip-brooks-special-guests/
ADVANCE TICKETS: £7.00
AGE POLICY: 18+
Parallel Lines Presents Soda Blonde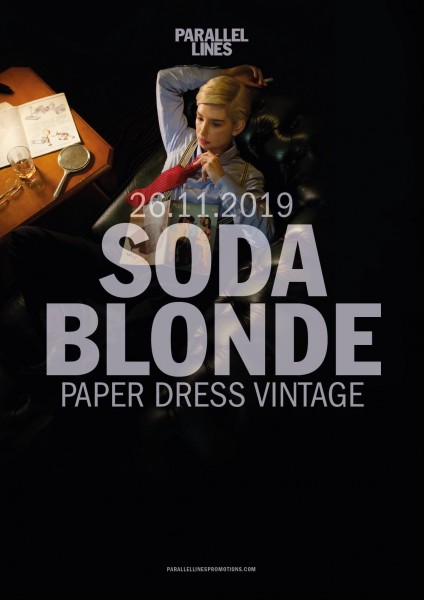 Soda Blonde plays at Paper Dress Vintage on November 26th 2019.
Better Person + John Moods live at Paper Dress Vintage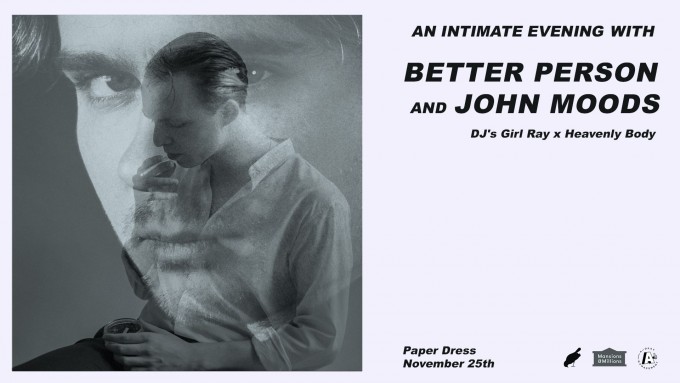 Presented by A-Okay and Bird On The Wire
We want to invite you to a special night of tender sounds with two of Berlin's best balladeers. Better Person and John Moods will join their beautiful, haunted voices late into the night.
Limited advance tickets available here!
DJ set before, in between and after the concerts by Girl Ray + Heavenly Body
Doors: 7:30pm
Tickets: 7£