NYE Rock and Roll Circus Party!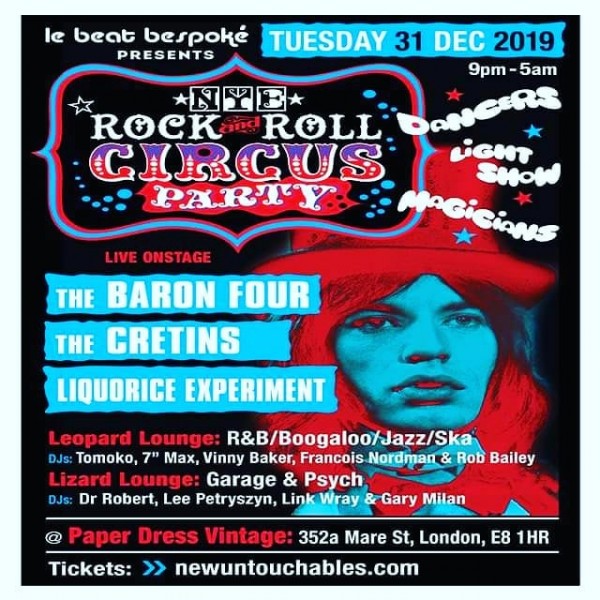 After last year's sell out we've added a third room and have one hell of a party planned for you!! The "ROCK and ROLL CIRCUS" returns to Hackney with exciting live acts and performances with theatrical décor. To see in 2020 we have three amazing live bands that will make you Shout & Shimmy.
Ladies & Gentlemen The Baron Four, The Cretins & The Liquorice Experiment
Our Circus venue Paper Dress Vintage is a fantastic 3 room space opposite Hackney Central station. Our party animal DJ team Rob Bailey, Lee Petryszyn, Tomoko Kazekami, John the Revelator, Dave Flynn, Noble & Heath, Yann Vatiste, Manuel Lovisutti, Jack Gadsden, Vinny Baker, Gary Milan, Max Newman & Francois Nordmann will spin party tunes all night. Prepare to dance the monkey, the pony and the fly with me!!
Other attractions include Light show, Dancers and Magician.
Don't miss out on the wildest party in town this NYE and book your ticket now!!!
TICKETS: //www.newuntouchables.com/tickets/shop/events/nye-rock-n-roll-circus/
FACEBOOK EVENT: //www.facebook.com/events/2356026381316896/
This Is Hardcore; A Birthday party!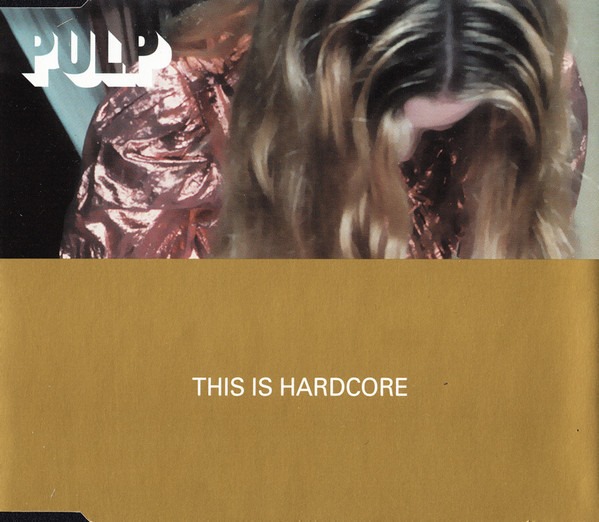 Our friend Steve Horry is throwing a birthday party with us on Saturday 21 December.
There will be bands, there will be DJs, there will be dancing. FREE ENTRY!
Doors will open at 8pm.
DJs:
Steven Horry (Nuisance, Never Forget)
Simon Drowner (Some Weird Sin, Desperate Journalist and – of course – Nuisance)
+ more TBC.
Abigail Brady (Abigail's Parties, Kenickers)
Paul Maps (Joyzine)
BANDS:
STEVEN HORRY & HIS AMAZING FRIENDS
Featuring assorted former bandmates from across all of my old turns, we'll play hits that never were and a selection of cover versions that probably won't surprise anyone who's talked to me for more than five minutes.
KEITH TOTP & HIS MINOR UK INDIE CELEBRITY ALL-STAR BACKING BAND
In his words: "Awesome." In my words: "Awesome. The most entertaining band I've ever seen playing excellent songs and having an excellent time while doing so."
//en.wikipedia.org/wiki/Keith_Top_of_the_Pops_%26_His_Minor_UK_Indie_Celebrity_All-Star_Backing_Band
DEXY
Full band set of Country punk from one of our favourite live performers. Debut album Tear It Down out now on 3 Minute Records, second album on the way and – from what we've heard – it's sounding bloody GREAT.
SILENT STAR
Featuring Patrick Barrett and Andrew Bowker, The Silent Star are an electronic duo playing glistening coldwave synthpop.
//silentstar.bandcamp.com/releases
Hello Duckie! John Hughes themed club night!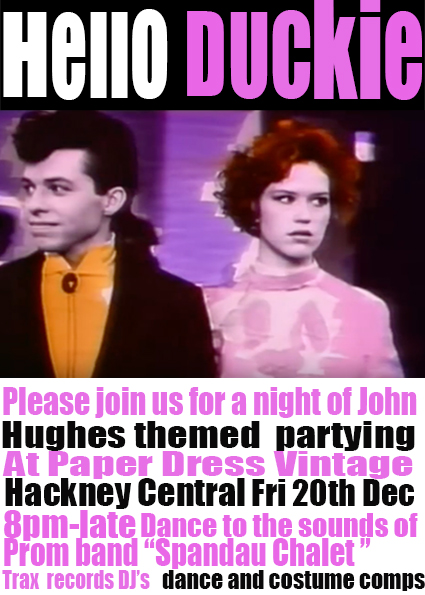 Join us on Friday 20 December for a John Hughes-themed club night!
Headline act is Prom band Spandau Chalet!
The Sleep Out Sessions – A Benefit for Centrepoint w/ Luke Haines!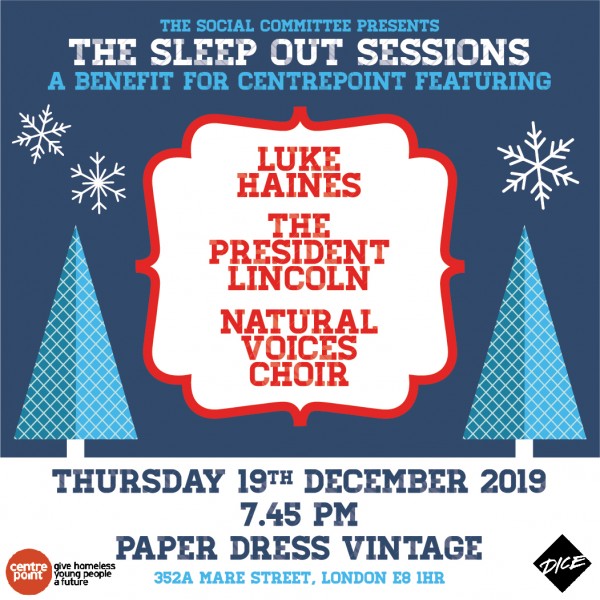 A benefit gig featuring The President Lincoln, Natural Voices Choirs and very special Luke Haines in support of Centrepoint's programmes for homeless young people.
Tickets are priced at £15 with all profits going to charity!
//dice.fm/partner/the-social-committee/event/dvb3v-the-sleep-out-sessions-a-benefit-for-centrepoint-19th-dec-paper-dress-vintage-london-tickets
RSVP to the Facebook event page and invite your friends here!
Private Christmas Party!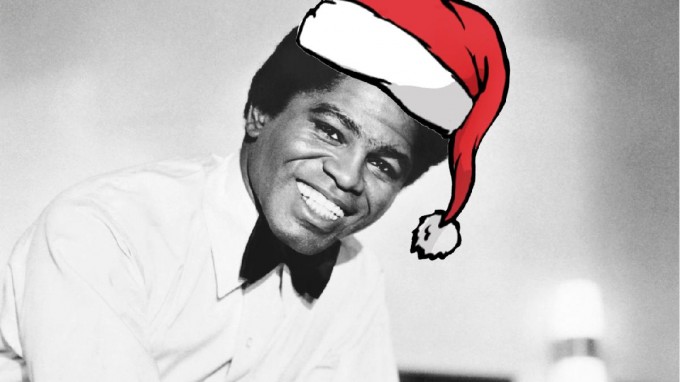 Paper Dress will be closed on the evening of Wednesday 18 December for a private party from 7.30pm
If you would like to hold your event at Paper Dress then please contact us at [email protected]. The perfect place for a significant birthday, a celebration or just a good 'ol party!
We're happy to work with you to book entertainment or leave you to your own devices to make it a night to remember!
PDx