Jazz Funk Special x Certified Bangers!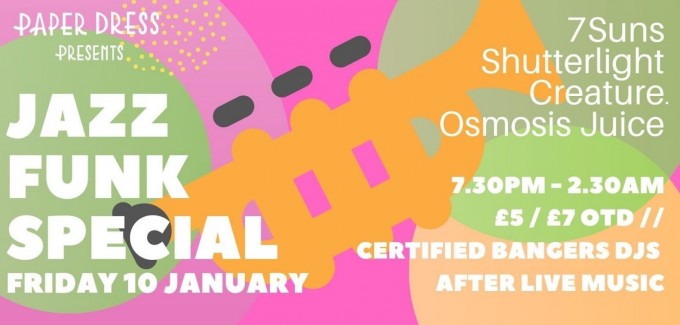 We've pulled together a wonderful night of Jazz, Funk & Fusion sounds for our first show of 2020 featuring our old friends 7Suns, the live synth grooves of Shutterlight and Jazz heads Creature. & Osmosis Juice
Advance tickets £6, £7 OTD
7SUNS
//www.facebook.com/7sunstheband/
10-piece Afro/Latin Funk explosion!
Here's a taste of what you can expect on the night!
//vimeo.com/167098894
SHUTTERLIGHT
//www.facebook.com/shutterlightlondon/
Deep Heavy Synths mingle with hard electro guitar grooves, live drums and soulful vocals….
CREATURE.
//www.instagram.com/creaturegrooves/
Instrumental trio – expect deep jazz grooves!
OSMOSIS JUICE
//www.facebook.com/osmosisjuice/
Tickets £6 in advance, £7 OTD
After the live music, Certified Bangers will take to the airwaves..
Expect to hear:
ABBA / ACE OF BASE / AMY WINEHOUSE / B52S / BEASTIE BOYS / THE BEATLES / BLONDIE / BLUR / BRUCE SPRINGSTEEN / THE CARDIGANS / CINDI LAUPER / CLASH / CURE / DAFT PUNK / DAVID BOWIE / DEVO / EMINEM / FATBOY SLIM / GARBAGE / GARY NUMAN / GRIMES / GORILLAZ / GWEN STEFANI / IGGY POP / INTERPOL / KATE BUSH / KING KRULE / KRAFTWERK / KYLIE MINOGUE / LCD SOUNDSYSTEM / M.I.A. / MADONNA / MGMT / N.E.R.D. / NEW ORDER / NIRVANA / OASIS / OUTKAST / PAVEMENT / PIXIES / PJ HARVEY / PRINCE / QUEEN / RAGE / ROLLING STONES / TALKING HEADS / TAME IMPALA / TEARS FOR FEARS / THE KNIFE / THE SMITHS / SONIC YOUTH / THE STROKES / TOM TOM CLUB / THE VELVET UNDERGROUND / YEAH YEAH YEAHS