The Richard Filby Spectacule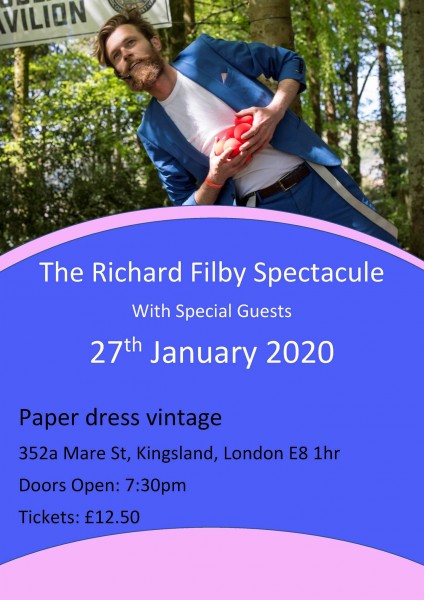 A night of comedy, variety and circus. Get the living room vibes of a Richard Filby performance with special guest comedians.
The Richard Filby Spectacule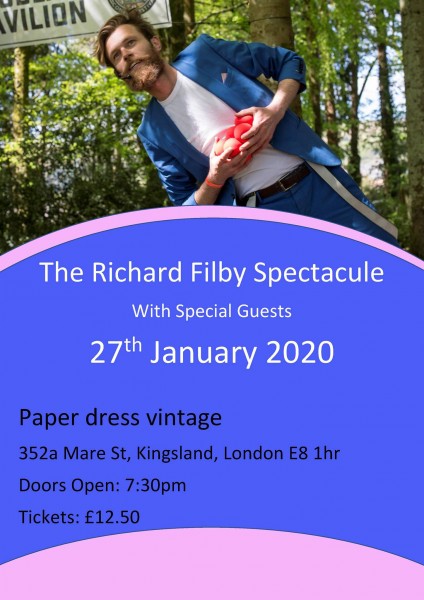 Stand-up comedy and circus combined, Richard Filby is bringing his one-man circus show to Paper Dress Vintage on Monday 27 January!
With support from London's best up-and-coming comedians everyone is laughing. Hosted by Gary Michaels of the Stand-up Nights
empire with sets from Hatty Preston and Brandon Burke!
Limited advance tickets available here!
Richard Filby
//www.instagram.com/richard_filby/
In an effort to extend himself and his creativity, Richard Filby is bringing his new show 'The Richard Filby Spectacule' to theatres around London, the UK and the world. After a successful run as a world famous street and festival entertainer he's bringing his dry, Australian sarcasm indoors to create a more intimate expression of comedy, art and circus themed entertainment.
In one of the most difficult venues of all, street theatre, Richard has proven himself to be a comical force, with excellent delivery and powerful humour. Coupled with his abilities as a juggler and equilibrist he has the ability to create a dynamic and vibrant stage show.
Gary Michaels
Facebook.com/standupnightslondon
King of the open-mic scene in London. Gary has been hosting, booking and supporting comedians for over a decade. His abilities as an MC are unrivalled. With a sixth sense for reading the room he can keep any night fun and lively.
Hatty Preston
//www.facebook.com/hatty.preston.39
Hatty is a comic from London who is now fairly confusingly (to both her and her family) based in Chicago. She has performed at London comedy venues such as The ComedyTavern and The Poodle Club, and was the 2018 winner of Court
Jester Comedy
She is a regular on shows across Chicago – Comedy Bar, Second City, Laugh Factory and Zanies. This year she has opened for Jourdain Fisher at The Oak City Comedy Festival (Raleigh, North Carolina), been a feature act at The Comedy Bar, Nashville (Tennessee) and performed at The Virgil in Los Angeles.
Brandon Burke
//www.facebook.com/mrbrandonburke
Stand-up comedy and storytelling with Brandon Burke. Come laugh along as this award-winning comedian spins a yarn of choosing among belt-buckles, bibles, Broadway musicals and Bo Duke.
Doors open at 7:00pm
Tickets £12.50: //www.eventbrite.co.uk/e/the-richard-filby-spectacule-tickets