Benjamin Louche & the Mysterious Woodsmen Tribute To The Cramps!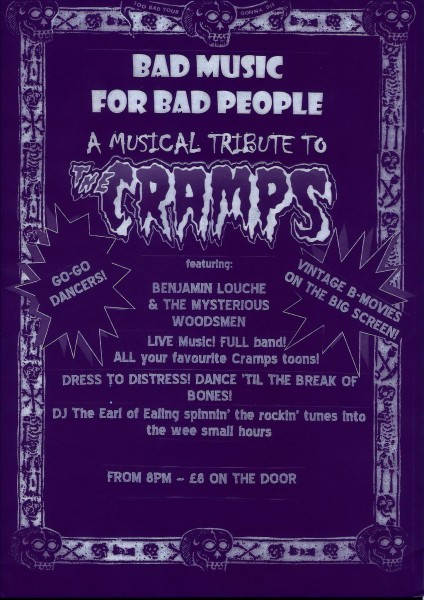 Benjamin Louche & The Mysterious Woodsmen present BAD MUSIC FOR BAD PEOPLE a musical tribute to THE CRAMPS
Live Music featuring a FULL band playing all your favourite Cramps songs!
Advance tickets available here: //www.wegottickets.com/event/417554
BENJAMIN LOUCHE & THE MYSTERIOUS WOODSMEN are: aberrant and otherworldly host to The Double R Club, joined on stage by Shane Gilliver on flamin' guitar, Laurence Owen on blistering bass and Kitch on deadly drums, to play tribute to those rockabilly deviants, those salivating sadists of sound, those heroes of the perverse and purveyors of the devil's music The Cramps! But most importantly they're there to make you rock 'til you see red!
GO-GO DANCERS!
Trixie Tassels and Marie Devilreux will be shakin' their rockin' bones to raise you temperatures and wreck your libidos! Watch as they shimmy and shake … and don't forget to tip!
VINTAGE B-MOVIES ON THE BIG SCREEN!
From Plan 9 From Outer Space and The Wolfman through Flash Gordon and on to the horrors of the Creature From The Black Lagoon, we've got the imagery to give you the biggest, baddest wettest, most sweat-drenched dreams!
Post Show party, with Trixie Malicious, till the very early hours playing the very best in old time wild and frantic Rock 'N' Roll, brain melting Rockabilly, Garage-Punk, Intoxicating Trash, Sleaze and Rhythm & Blues!
DRESS TO DISTRESS! DRESS UP AND DANCE 'TIL THE BREAK OF BONES!
Think Bettie Page meets undead Elvis! Jane Mansfield and Howlin' Wolf wrestling alligators in a graveyard at midnight! Think naked flesh lit by a thousand funeral pyres, think hotrod reds and plutonium zombie greens!
Tickets here: //www.wegottickets.com/event/417554
RSVP to the Facebook event page and invite your friends here!