Wed 31 Jul 12:21pm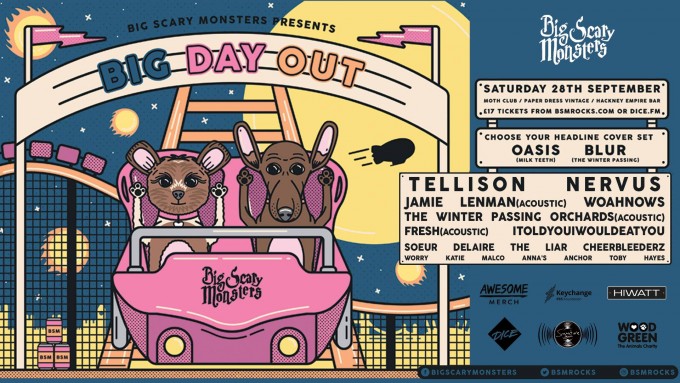 For the second year running we're excited to take part in round 2 of Big Scary Monsters' Big Day Out! Taking place on Saturday 28 September, here's what they've got to say about the event
"We've pulled together 20 of our favourite artists across three brilliantly unique East London Venues – MOTH CLUB, Paper Dress Vintage and The Empire Bar. 
We believe the line up speaks for itself and offers something for everyone. Headlining this years festival are Oasis (MILK TEETH) and Blur (The Winter Passing), playing fan favourite hits from the 90s brit-pop era to close the night in style. Both bands will be playing simultaneously in MOTH Club and Paper Dress Vintage, so ticket holders are advised to pick their bands wisely!
We've also announced our very own Jamie Lenman, Nervus, Orchards and The Winter Passing, alongside our wonderful friends Tellison, WOAHNOWS, itoldyouiwouldeatyou, Sœur Delaire the Liar, Fresh, Worry cheerbleederz, Katie Malco, Toby Hayes and Anna's Anchor. 
For us, community goes way beyond the music, so we're very pleased to partner with a handful of wonderful organisations this year, including Wood Green, The Animals Charity and Hackney Foodbank. In addition to this, our friends at Signature Brew will be providing lots of liquid refreshment, while Hiwatt UK (Established Manufacturer) Amps will be helping us to bring the noise.
Over the coming weeks we'll be announcing lots of additions to the lineup and bringing you more info on the bands, our partners and the extra little touches you can expect on the day.
We've spent a lot of time curating what we think will be a perfect day of live music and fun. We've even organised the world's greatest closing party…again, which we'll be telling you about nearer the time."
General Admission £19 – www.bsmrocks.com / link.dice.fm/BSMBDO
Poster by Bloodflower