Carnival Special Friday 17 August!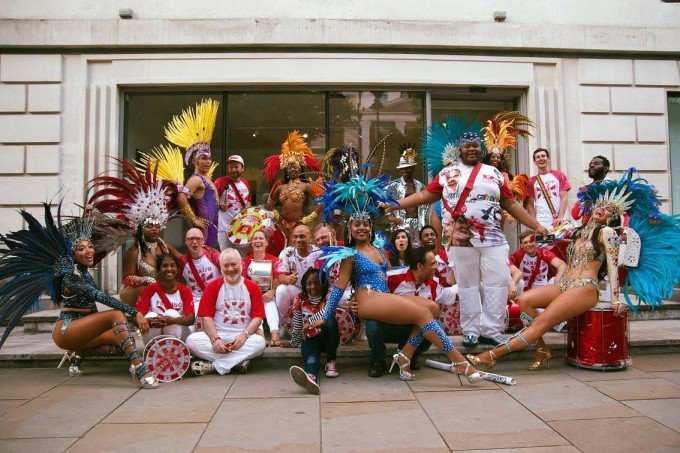 We're getting in the Carnival mood the weekend before the best street party in the world with a special appearance from Paraíso School of Samba, the exhilaratingly rhythmical TalkingDRUM channelling music from Africa, Brazil and Cuba plus bossa nova indie band Sugarcane who'll be launching a brand new single on the night.. and an opening set from Forest Law!!
We are also taking the opportunity to unveil our new back yard after some building works are completed, so more space to hang in the summer air and take in the sweet smell of Jerk Chicken which we'll be cooking up for extra Carnival flavour!
And finally, Liam (Pacific Social Club) & Conal (Domestic Exile) will be spinning some tunes upstairs to keep you shaking your ass all night long
Spread the word, this one is going to be big!
PARAISO SCHOOL OF SAMBA
//www.facebook.com/paraisosamba.wall/
Paraíso School of Samba is run by artists who grew up in the Rio de Janeiro samba community and which closely follows the authentic Brazilian School of Samba structure and objectives, like Brazilian Samba Schools, we play only pure Samba – expect a colourful joyful
mix of percussion music and dance!
TalkingDRUM
//www.facebook.com/talkingdrumUK/
TalkingDRUM is a band of vibrant professional drummers, performing exhilaratingly rhythmical music from Africa, Brazil and Cuba.
The band members all met while performing with samba troupe 'Rhythms of the City', and have studied world roots music for many years.
The essential aim of TalkingDRUM is to take the power and authenticity of folkloric music from vibrant traditional cultures, and present it to a Western audience in a relevant and moving way.
SUGARCANE
//www.facebook.com/sugarcanemuusic/
Brand new Bossa Nova indie band! They'll be releasing their debut single on the night for added party vibes!
//www.instagram.com/sugarcaneband/
//soundcloud.com/sugarcaneband
FOREST LAW
//www.facebook.com/94forestlaw/
//www.youtube.com/watch?v=55NVTda5sag
Plus DJ sets from Liam (Pacific Social Club) & Conal (Domestic Exile)
£5 in advance, £7 on the door!
RSVP to the Facebook event page and invite your friends here!