Eclectrik ft. Nina Miranda, Anthony Elvin, Dembis & Friends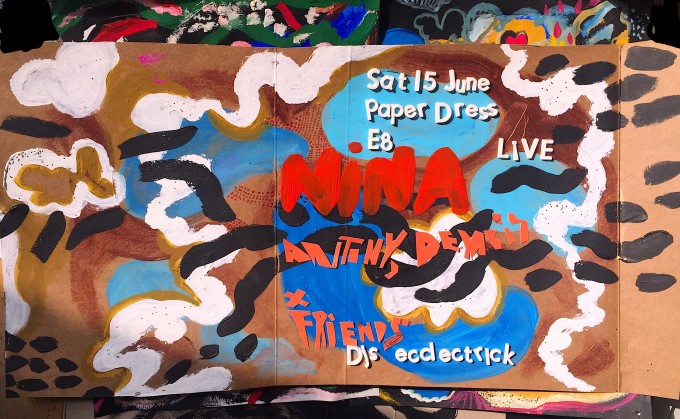 An evening of live Brazilian, West African and International London Rhythms fused with 60s Pop, Trip-hop, Folk & Bossa Nova vibrations followed by Eclectrik DJs till the early hours and Trinidadian street food in the back garden!
Fresh from her trio performance supporting Sergio Mendes at Royal Festival Hall, Anglo-Brazilian Nina Miranda (Smoke City, Da Lata, Nitin Sawhney, Jah Wobble) joins us as our special guest..
Nina will be accompanied by Antony Elvin, Dembis Thioung and special guests and will present a live show bustling with percussion and International Bliss!
After the live music, Eclectrik DJs will take you on a dancefloor journey with the best in House, Afrobeat, World Rhythms & Funk till 3am
Nina Miranda & Friends
//www.facebook.com/ninamirandaofficial/
'Calm yet adventurous and ultimately captivating, her voice wafts over clouds of sounds, creating a sensuous brew'
(Wall Street Journal)
"Iconic… A trip-Hop Luminary" (Gilles Peterson 6Music)
"A very talented woman, I love the sonic melange"
(Lauren Laverne BBC6 Music)
ANTHONY ELVIN
Antony Elvin has a voice as velvety and yearn-full as Scott Walker, he plays the guitar full of contrasts of blissful delicacy and muscular groove, and shares many compositions with Nina Miranda along with several other artists and projects including Hot Brew and The Mighty Boosh.
DEMBIS THIOUNG
Dembis Thioung is a joy to behold live, his warm energy is infectious and rhythms propelling. A rare and mesmerizing master of the Dunduns -the melodic and hypnotic West African bass drums.
As the child of a Griot and Laube (drum maker) family, based in Senegal, Dembis was introduced to the art of traditional and contemporary Senegalese musical techniques since he started making drums at a very young age.
He has played live and recorded albums with internationally acclaimed artists such as Baaba Maal and Carlou D and a member of the drum band Mbolo Percussion, in partnership with Mohamed Gueye, Penny Elkins and Aida Diop.
After the live music Eclectrick DJs Rev Milo Speedwagon, Craig Whitfield and Jason Leung will me taking you on a musical journey – expect to hear contemporary and retro Latin & African rhythms, underground house, jazzy grooves & dancefloor funk.
Rey will be serving Trinidadian street food in the back garden and rescuing us from hangovers.