Gong-Oh Festival! All Dayer ft. Lit Fm, Bandini, Victor Marichal & more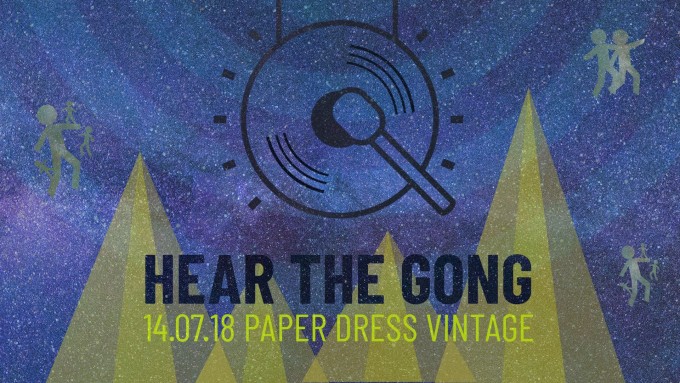 HEAR THE GONG!
On Saturday 14th July, Paper Dress Vintage will be hosting GONG-OH FESTIVAL, the very first festival brought to you by the emerging artist collective and record label GONG-OH RECORDS!
Join us for an entire day of live music, storytelling, performance-art, photography, and come celebrate the birth of an exciting new collective : join the community of GONG-OH artists!
Doors open 2pm! All Day Pass – £8 (burger on us before 6pm)
Online tickets here:
//www.eventbrite.co.uk/e/gong-oh-festival-feat-litfm-bandini-victor-marichal-tmatl-more-tickets-47543513930
RSVP to the Facebook event page and invite your friends here!
This is a family-friendly festival, there will be something in it for everyone. Cold beers, BBQ and festive glitter masks guaranteed :)
3pm – Gypsy Brunch with King Cassady
Expect mouth-watering BBQ and ear-soothing melodies.
4pm – Huw Joseph music, our favourite Aussie MC will be working his magic downstairs during the BBQ.
5.30 pm – Gong-Oh band showcase and presentation of GONG-OH Records by its founders!
6pm – Gabriel Kazz.
www.gabrielkazz.com
"Uplifting folk rock"
7pm – Jane Silver.
www.janesilver.bandcamp.com
"Psychedelic-folk"
8pm – The Man and The Lake
www.themanandthelake.com
"Wild and poetic Adriatic folk-rock"
9pm – Victor Marichal
www.victormarichal.com
"A midnight collision between blues, jazz and storytelling"
10pm – Bandini
www.bandinimusic.com
"An enigmatic musical storyteller at the crossroads between gypsy rock, jazz and blues"
11pm – Lit FM
www.litfmmusic.com
"Soul, funk, disco 9 piece fusion ensemble"
All day upstairs – Music Photography exhibition by Carlo Polisano (Rolling Stone Italia , Seven / Eight creative studio )
Carlo Polisano is a photographer and video maker specialised in music photography. He kickstarted his career back in 2010 in Milan, documenting the underground music scene and becoming the main contributor for Rolling Stone Italy, covering shows and festivals across Italy and photographing more than 300 bands including Arctic Monkeys, Guns N' Roses, Nick Cave and The Bad Seeds, The Cure, and many many more. He moved to London in 2014, establishing himself as the in-house photographer for UK's largest vinyl manufacturer 'Key Production'. He is also the founder and creative director of Seven / Eight, a creative collective specialised in visual communication and branding for artists and bands of every genre.
Presented by Gong-Oh Records.
//www.gong-oh.com
__________
GONG-OH is An innovative record label and collective of emerging European artists based in the UK.
Founded by two native Italians and a Frenchman actively involved on the London and Bristol music scenes – GONG-OH Records emerged from a shared vision.
Tired of witnessing the struggle of talented yet isolated musicians around them, the three friends envisioned an alternative to the old mechanics of the music industry and dreamed a united collective of artists: GONG-OH was born!
The essence of GONG-OH (an Italian take on the Chinese "Gung-Ho") lies in the simple meaning of its two words : "Work Together"..