HAVVK / Charmpit / Scrounge / I, Doris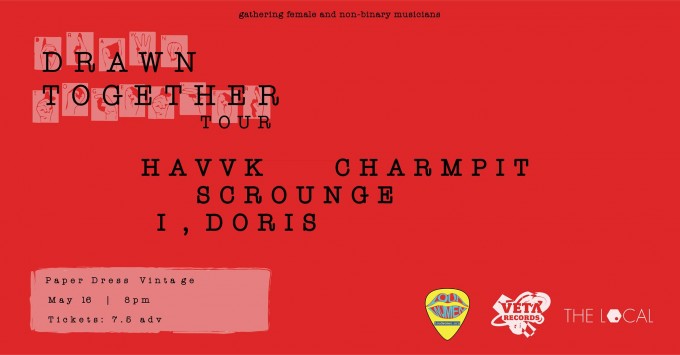 LOUD WOMEN and Veta Records are delighted to present the London leg of HAVVK's 'Drawn Together' Tour – a series of live dates celebrating and increasing visibility for female and non-binary run projects. Performances from Charmpit, Scrounge and I, Doris.
Limited advance tickets available here!
HAVVK
Grunge-fuelled indie with a powerful, ethereal vocal.
"…waves of heavy percussion and intertwining riffs." – DIY
"…simply sublime…" – The Line of Best Fit
Charmpit
Queer DIY POPstarPUNK
"…superb…" – CLASH
Scrounge
Powerful post-indie duo
"A powerful, snarling statement of post-punk energy… a meteoric rising force who are able to intrigue, shock and utterly enthral." – The Line of Best Fit
I, Doris
Mummycore riotpop kitchenpunx.
"Unmissable. Pioneers of #mummycore they are one of the most radical and fun bands we've ever seen." – Kitmonsters
The Drawn Together Tour is run in collaboration with The Local.