Karousel Music x SESAC East London Showcase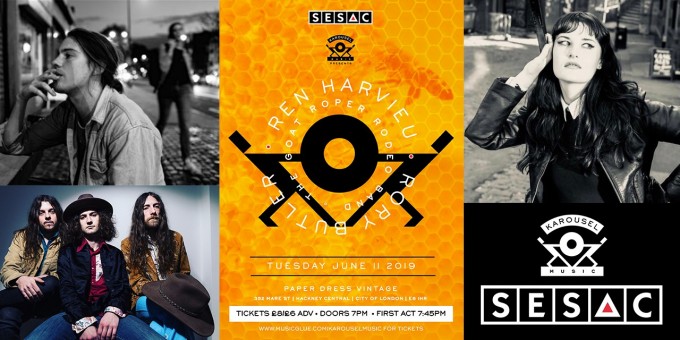 It's the June instalment of the Karousel x SESAC East London showcase!
Featuring Ren Harvieu, Rory Bulter and The Goat Roper Rodeo Band.
Limited advance tickets available here
REN HARVIEU
//www.facebook.com/renharvieu/
Ren Harvieu is a darkly enigmatic singer/songwriter from Salford, Manchester. Newly signed to Bella Union her long awaited second album is scheduled for Autumn 2019. The album, produced by Romeo Stodart of The Magic Numbers & Dave Izumi Lynch, departs somewhat from that 60's setting of her 2012 Debut 'Through The Night' and delves a more HD world of deeper blacks and brighter colours both musically and lyrically.
RORY BUTLER
//www.facebook.com/rorybutlerofficial/
THE GOAT ROPER RODEO BAND
//www.facebook.com/TheGoatRoperRodeoBand/
With just an upright bass, two old guitars and a bucketful of aching harmony, THE GOAT ROPER RODEO BAND are preaching 'Country Blues' like you never heard.
Advance tickets available here: //www.musicglue.com/karouselmusic/events/9f74e3ca-bf38-4197-b7ac-80227bc8bb22