Live Circuit Presents: Arable Desert, She's Seventeen, Burly Herd +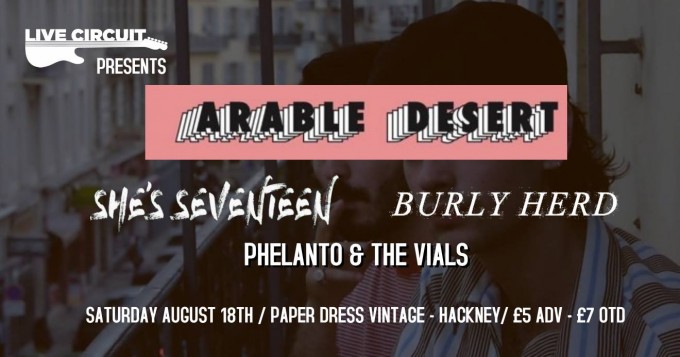 Live Circuit Presents 4 of the best up and coming bands London town has to offer
Limited advance tickets available here!
Arable Desert
Formed in London but sound as though they're from the depths of the Californian outlands, Arable Desert are killing the independent garage rock scene with their blend of fuzzy, spaced-out psychedelia.
She's Seventeen
She's Seventeen are an indie/alternative rock band from South London, UK.
Currently play gigs in and around London, we have also released and EP named 'Lies & Deceit' on all major platforms.
They play are range of music between punk and indie rock.
Burly Herd
Cinemascopic soundscapey alt pop.
FACEBOOK: www.facebook.com/burlyherd
LISTEN: www.soundcloud.com/burlyherd
TWEET: @burlyherd
Phelanto & the Vials
With a play on Radio X and support from Communion, Phelanto & the Vials' melancholic alt/indie has turned a few heads over the past year. This year will see them release the follow-up to their 2017 debut album 'Perudo'.
Tickets £5 Advance via TicketSource / £7 OTD (Cash only)
RSVP to the Facebook event page and invite your friends here!