Live Circuit Presents: Thieves By The Code, Beach Riot, The Shantics + more..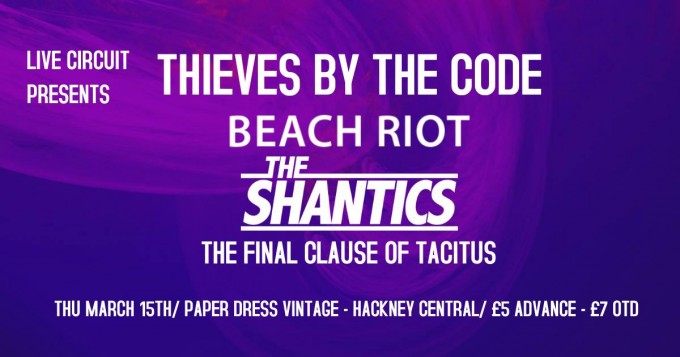 Live Circuit Presents 4 hot up-and-coming acts at Paper Dress on Thursday 15 March
Limited advance tickets available here: //www.ticketsource.co.uk/date/448069
THIEVES BY THE CODE
//thievesbythecode.bandcamp.com/
//soundcloud.com/thieves-by-the-code
//www.instagram.com/thievesbythecode
twitter.com/ThievesByCode
BEACH RIOT
Beach Riot are a fuzzy four-piece consisting of Rory O'Connor (guitar/vocals), Cami Menditeguy (guitar/vocals), Jim Faulkner (bass/vocals) and Jonny Ross (drums). With members split from Brighton and London the band share a mutual love for making a lot of pop fuelled noise that lives and breathes on the live circuit.
The quartet's DIY nature assorts as a distorted haze compiled with big hooks and a distinctive raw energy that's incredibly current. All of this attends to a underground scene that is brimming with fuzzy pop. Taking influences from the likes of Queens of the Stone Age, Cable, Sleater-Kinney and Pavement, their sound is brash and untamed.
//soundcloud.com/wearebeachriot
The Shantics
//soundcloud.com/theshantics
The Final Clause of Tacitus
From Reading UK hail, the "contagiously energetic," The Final Clause of Tacitus. For fans of Rage Against the Machine and The Red Hot Chili Peppers, but there's no question this is something new and exciting, If you don't know yet, that is hard aggressive rock intertwined with moments of serenity and a heavy sprinkling of funk! You can't help but enjoy yourself!
//soundcloud.com/tfcotband
★ DETAILS ★
18+ only, ID may be required
Full smoking area
RSVP to the Facbeook event page and invite your friends here!