Sat 14 Dec 11:16am
After last year's sell out we've added a third room and have one hell of a party planned for you this NYE!! The "ROCK and ROLL CIRCUS" returns to Hackney with exciting live acts and performances with theatrical décor and tickets are starting to get snapped up…don't miss out people! Here's what we have planned….
To see in 2020 we have three amazing live bands that will make you Shout & Shimmy!
Ladies & Gentlemen The Baron Four, The Cretins & The Liquorice Experiment
Our party animal DJ team Rob Bailey, Lee Petryszyn, Tomoko Kazekami, John the Revelator, Dave Flynn, Noble & Heath, Yann Vatiste, Manuel Lovisutti, Jack Gadsden, Vinny Baker, Gary Milan, Max Newman & Francois Nordmann will spin party tunes all night. Prepare to dance the monkey, the pony and the fly with me!!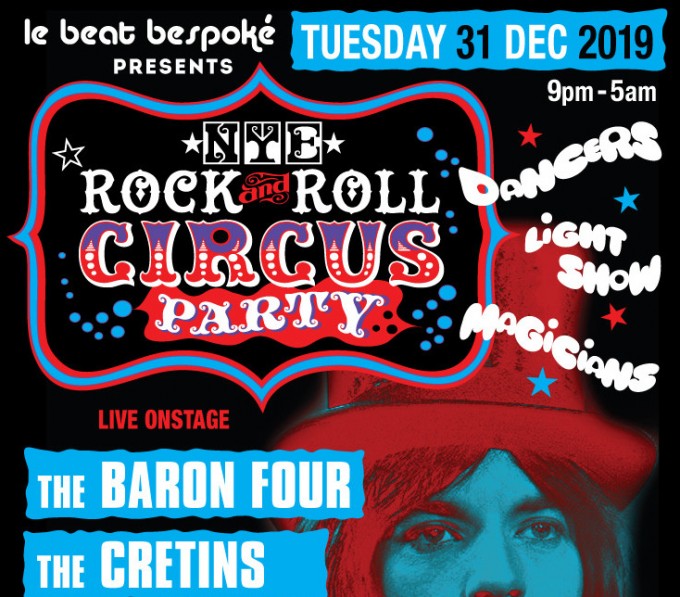 Expect to hear Northern Soul, Vintage R&B, Rock N Roll, Psych, Boogalloo, Garage, Psych, Jazz & Ska all night long!!
Other attractions include Light show, Dancers and Magician.
Don't miss out on the wildest party in town this NYE and book your ticket now!!!
TICKETS: //www.newuntouchables.com/tickets/shop/events/nye-rock-n-roll-circus/
FACEBOOK EVENT: //www.facebook.com/events/2356026381316896/