Paper Dress 80's Club! Fri 12 Oct!
We've been wanting to put on an 80's themed night for awhile and it's finally happening on Friday 12 October! It's also FREE ENTRY all night long..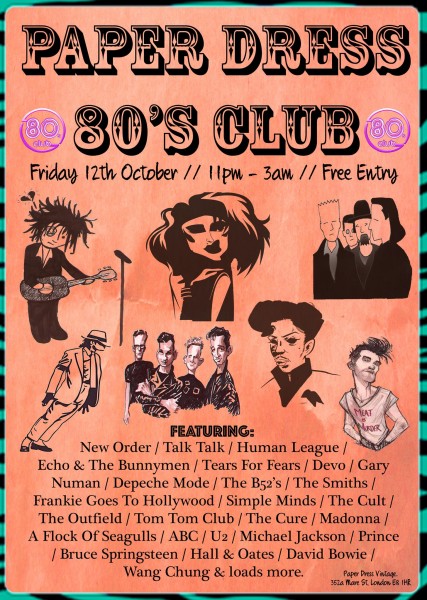 Be A Body are running the show and playing the hits from the 1980s till 3am
Featuring music from:
New Order / Talk Talk / Human League / Echo & The Bunnymen / Tears For Fears / Devo / Gary Numan / Depeche Mode / The B52's / The Smiths / Frankie Goes To Hollywood / Simple Minds / The Cult / The Outfield / Tom Tom Club / The Cure / Madonna / A Flock Of Seagulls / ABC / U2 / Michael Jackson / Prince / Bruce Springsteen / Hall & Oates / David Bowie / Wang Chung & loads more.
80's fashion is highly encouraged!
Before the club night there's some great live music with an 80's soul running through it..
Nature Boy is a brand new project taking influences from Bowie, Isaac Hayes, Steely Dan and many more – come and witness their debut performance with a big party at Paper Dress Vintage on Friday 12 October with supports from Pristine Babe, Jean K & Ami Koda (who is also playing her first solo show in London)
RSVP to the Facebook event page and invite your friends here!