Paper Dress Presents: The Cracked, Boss Terror, Zoofan & Th'Sheridans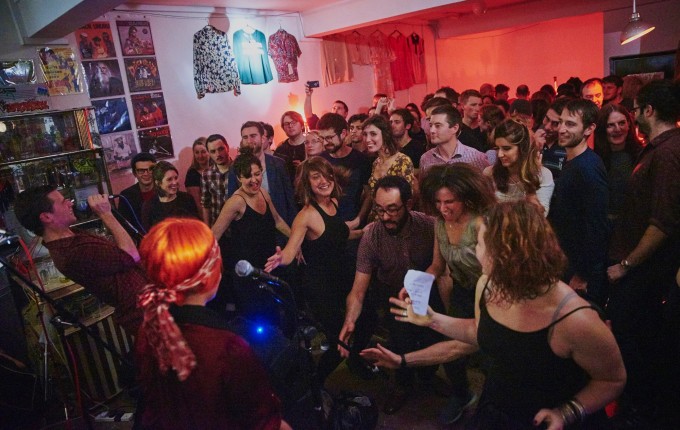 Paper Dress presents an evening of wonderful live music from our unique shop window stage in Hackney Central!
THE CRACKED
//www.facebook.com/thecrackedmusic/
The Cracked are the hazy Balearic vibe of Ibiza to the rich Latin sounds of South America, dropping funky African beats and harmonies against a backdrop of English pop on a sunny summer afternoon.
Infectious fusion dance that steps to upbeat rhythms, sumptuous brass and mouth-watering melodies.
This London based 8-piece embraces international musicians from as far and wide as Argentina and Australia, blending styles effortlessly to create an uplifting and Tropical / Soca / Afrobeat, sound!
BOSS TERROR
//www.facebook.com/Boss-Terror-1477358735891731/
Drone, Punk, Spaced and Motorway Funk; from the dusty mind synth of the Boss on his way to the next job…
ZOOFAN
//www.facebook.com/iamzoofan/
ZOOFAN is an electronic dream pop duo based in London. A highly stylised and creative team who strive to create music that both captures the intensity of city working life, whilst also delivering those long awaited moments of Californian beach tranquillity.
.
TH'SHERIDANS 
//thsheridans.bandcamp.com/
DIY incongru-pop outfit. Songs about food / dating / small towns, and lately: radical softness as a response to everyday racism & sexism.
PLUS A DJ SET FROM ALAN ALDI!
Uproarious DJ Alan Aldi (French Disko, Cherry Bomb) will be inserting himself between the bands and presiding over a huge blow-out after the live music stops, playing some banging rock, glam, punk and post-punk… Expect to hear Beatles, Bowie, Banshees, Birthday Party and other bands not necessarily beginning with the letter B.
//www.mixcloud.com/alan-aldi/cherry-bomb-mix/
RSVP to the Facebook event page and invite your friends here!
KEEP LIVE MUSIC ALIVE!
PDx