Tue 30 Jun 9:55am
It seems like al fresco drinking is the most responsible way to go so we've launched a new extended, socially distanced outside drinking area – Paper Dress Yard – with a total of 10 tables and a capacity of around 50 folks in a sun trap of a courtyard on Bohemia Place behind us…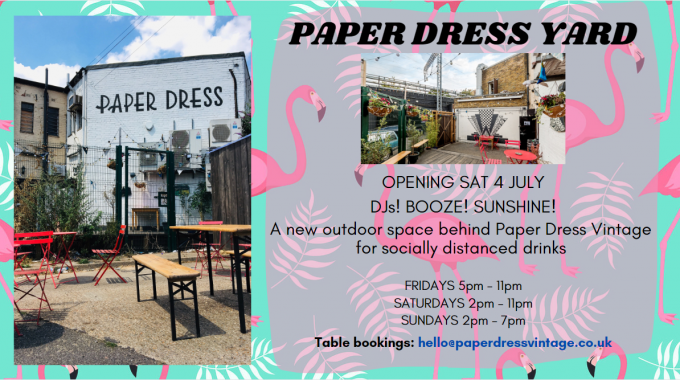 Book yourself in for a session on our Bookings page here: https://paperdressvintage.co.uk/bookings
At Paper Dress Yard, we'll be playing some of the best music known to humankind (at a responsible level) and dishing out all the drinks you've been missing during lockdown (espresso martinis, yes please!) – plus the shop will be open inside to freshen up your Summer wardrobe!
Additionally, we're putting in place a whole host of safety measures to reduce the risk of transmission of Covid-19 on our premises including table service, hand sanitiser stations, contactless payments and much more.
A copy of our Covid-19 risk assessment is available to view and download here.
FRIDAYS 5pm – 11pm
SATURDAY 2pm – 11pm
SUNDAYS 2pm – 7pm