Sounds Of The Space Age!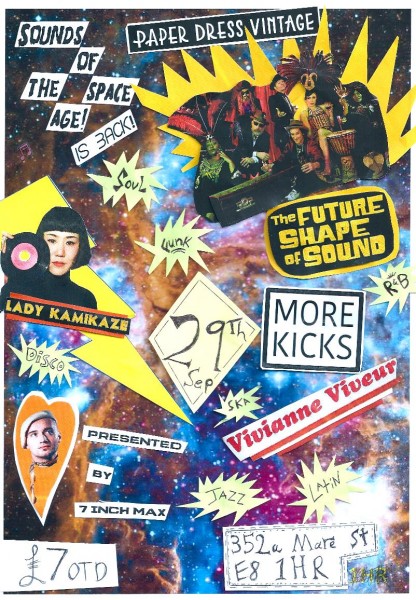 We're delighted to welcome Sounds of The Space Age for their first event at Paper Dress this September. Here's what they've got to say about what's planned..
SOTSA returns! Bigger, badder, and in a new home!
After a short break we're throwing it down at the Paper Dress Vintage. Expect an even broader plethora of sounds and genres with new live bands every time, a chunkier sound system, wooden dance floor and PINTS! 
HEADLINERS: The Future Shape Of Sound, a gritty energetic gospel rock n' roll shakedown. Expect an explosive performance like no other, that could only be described as an entirely new live music experience. (a personal favourite of mine)
//www.facebook.com/TheFutureShapeOfSound/
SUPPORT FROM..
More Kicks: is an explosion of punk attitude that will hit you in the stomach and make your heart beat faster.//www.facebook.com/morekicksmorekicks/
Vivianne Viveur: Eerie and alternative. Discover a deeply unique dreamscape of sounds and rhythms, all the way from France. //www.facebook.com/Vivianne-Viveur-46211624023/
Legendary guest Dj Lady Kamikaze playing hot wax from all corners of the globe.
And of course myself, 7inch Max
£7 OTD
RSVP to the Facebook event page and invite your friends here!