The David Lynch Disco Presents: Das Clamps, Oh Sister + more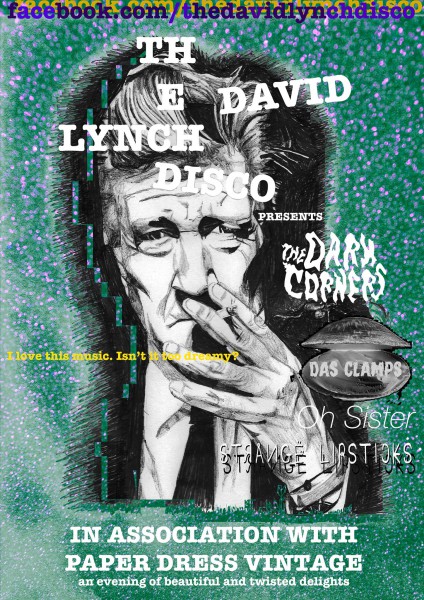 THE DAVID LYNCH DISCO Presents in association with PAPER DRESS VINTAGE
An Evening of Beautiful and Twisted Delights
There's a sort of evil out there. Something very, very strange. Call it what you want, a darkness, a presence. It takes many forms but… its been out there for as long as anyone can remember…
In London's seedy underbelly there are urban playgrounds, away from the light and hidden from sight. Places for the weird, the wrong and the dangerous. Places where men go. Always different, always the same.
Your Host and Compere for the Evening
THE FANTASTIC MR OLIVER FOX

—Your Musicians—
DAS CLAMPS
Two piece band in shape of clams doing Cramps covers, tunes that the Cramps loved and their own crampy! Songs! John Waters' wet dream.
//dasclamps.bandcamp.com/
OH SISTER
Delivering a very special tailored set for The David Lynch Disco. Sarah Berresford, better known as Oh Sister is a singer-songwriter, from Teesdale but currently based in London. Let her beautiful floating vocals chill your soul.
//soundcloud.com/ohsistermusic
ALOHA DEAD
A duet of deathly loveliness and vividly vertiginous twang – Benjamin Louche (of London's infamous and exquisite The Double R Club). If David Lynch was wearing a voluminous Hawaiian shirt, and if that shirt made a record it would sound like this – The Shend (of The Cravats).
//soundcloud.com/alohadead
STRANGE LIPSTICKS
Mysterious shadowy weird lo-fi singer songstress. Solo project from the leading lady of UPSET STOMACH. Songs worthy of the Palmers' front room, or James Hurley's motorbike. Welcome to the cathedral of erotic misery.
//strangelipsticks.bandcamp.com/album/mysteries
—Your DJs—
DJ CLEMENTINE (Das Clamps)
Playing good time, dance contest 50s and 60s rock n roll, rhythm & blues and raunchy sax driven instrumentals.
HEARTBREAK HARRY (The Dark Corners) 
Playing Freaky Fifties Rock and Roll, Moody Sixties Instros, Spooky Surf, Weird World Sounds, Sugary Love Songs, Noisy Jazz and early Psychedelia and Doom.
——————ADMISSION——————
On the Door: £5.00
Guest List: Post your name on the event wall and arrive before 9.00pm for £3.00 guestlist entry. Alternatively, speak to a band.
RSVP to the event page and invite your friends here!

I love this music. Isn't it too dreamy?
THE DAVID LYNCH DISCO