The Local Presents Samana, Lasse Matthiessen & Mathilda Homer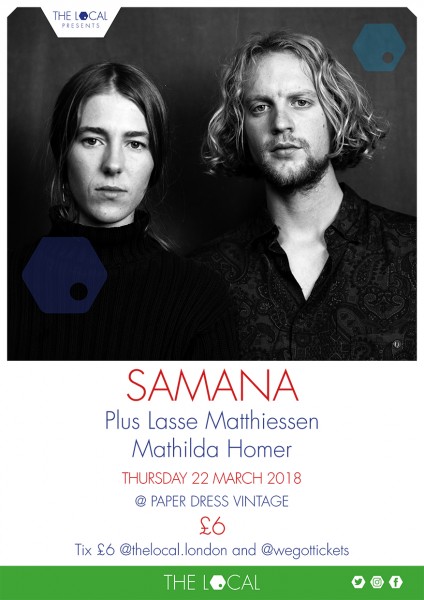 Limited tickets available here: //www.musicglue.com/the-local-london/events/2018-03-22-samana-paper-dress-vintage
Samana is a journey of internal and external exploration. Their music is forged with its own distinct weight and significance, born from the interpretation of dreams, the study of ancient rituals, the philosophies of love, loss and death, and the quintessence of interior discovery that results from personal experience. Between themselves, Rebecca Rose Harris and Franklin Mockett are multi-disciplinary artists. Franklin crafts the instrumentation, recording, and production of the music to tape, whilst Rebecca Rose is the visionary behind the conceptual imagery, artwork, lyrics and film.The process by which all works are recorded is of great importance to Samana, who compose their art in their analogue recording studio and darkroom in the remote mountains of Wales.
It is the deeply honest, elevated and bittersweet symphonies that the Danish musician Lasse Matthiessen profoundly and delicately interprets in his powerful and insistent style, with a not rare explosion of expression. A variability with a sense for the essential which is re-emphasised again and again.
//www.facebook.com/lassematthiessen/
Whereas the previous album, "Wildfires", evokes memories of cinematic rock with a twist of chamber and folk music, the coming EP, to be released in the fall of 2017, holds a way more noisy, poppy and expressive sound.
Matthiessen ventures into new terrain. Seemingly effortlessly, he makes the jump from a minimalist singer/songwriter style to leading a band which demands big instrumental orchestrations. What showed its beginnings in "Wildfires" is now completed to perfection. At the very latest, when the fresh tones of the piano cover the voluminous sound structures like slowly dwindling glitter, the listener realizes that something new and bigger is being uncompromisngly pursued.
In 2017, Lasse Matthiessen will continue touring with his live show. In addition to concerts in Germany, Austria, Switzerland and Scandinavia, he will perform in countries like Poland and the Czech Republic, where he has already toured extensively, as well as North America. Whether with full band, as the duo or solo act, Lasse Matthiessen is sincere, authentic and moving. What counts for him is the interaction with his audience – after all, he writes music to share and tell stories.
Support from Mathilda Homer
Mathilda Homer is an up-and-coming contemporary folk artist from London.
Mathilda's sound blends eclectic influences with bittersweet melodies and revealing lyrics that leave no stone unturned. Listeners are drawn into Mathilda's vivid stories that have already allowed the young songstress to become established within the London Songwriting community, with her recently writing music for the film 'Hampstead'.
//soundcloud.com/user-219411716/kissing-games
//soundcloud.com/user-219411716/pages-vs-words
Limited tickets available here: //www.musicglue.com/the-local-london/events/2018-03-22-samana-paper-dress-vintage