The Wurst Night in London ft. Das Lunsentrio, $AU$AGE$ + Django Django DJ set!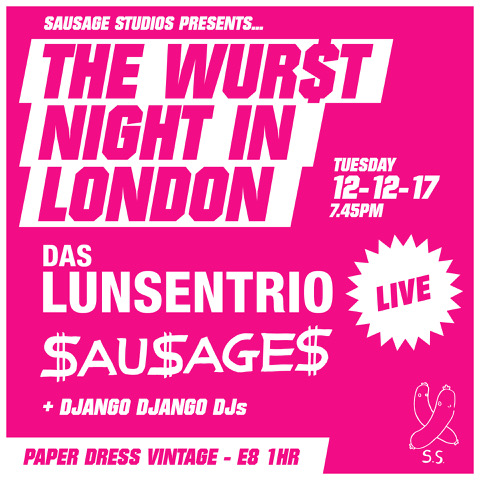 Sausage Studios' Christmas party – The Wur$t Night in London – featuring live sets from $AU$AGE$ & Das Lunsentrio + a special guest DJ set from Django Django! FREE ENTRY!
$AU$AGES
Fronted by Andy Knowles (Franz Ferdinand, Johnny Marr & The Healers, The Fiery Furnaces), and alongside Tommy, Seb & John, $AU$AGE$ are a four piece with clear influences from post-punk, art rock to brit pop.
However, their energetic performances and songs that rarely break 2-minutes soon give an impression that $AU$AGE$ don't take genres, or anything for that matter, too seriously. Good guys, good music. Who cares? I mean, they called themselves $AU$AGE$.
//www.instagram.com/thebandsausages/
DAS LUNSENTRIO sind:
Nick McCarthy (bis vor kurzem Gitarrist der Rockbands Franz Ferdinand und FFS) und Seb-I Kellig (Dub-Produzent für unter anderem LaBrassBanda), in deren gemeinsamen East Londoner Sausage Studio das Trio aufnimmt und produziert, sowie drittens der in Berlin lebende Künstler und Lyriker Hank Schmidt in der Beek, aus dessen Feder die Texte kommen.
//www.youtube.com/watch?v=X8nB3VZE8vg
Plus a special guest DJ set from Django Django
RSVP to the Facebook event page and invite your friends here!
FREE ENTRY!