Venue Relaunch x Independent Venue Week 2020
We're starting this fresh decade with a celebratory relaunch of Paper Dress for Independent Venue Week 2020 following our Arts Council grant award!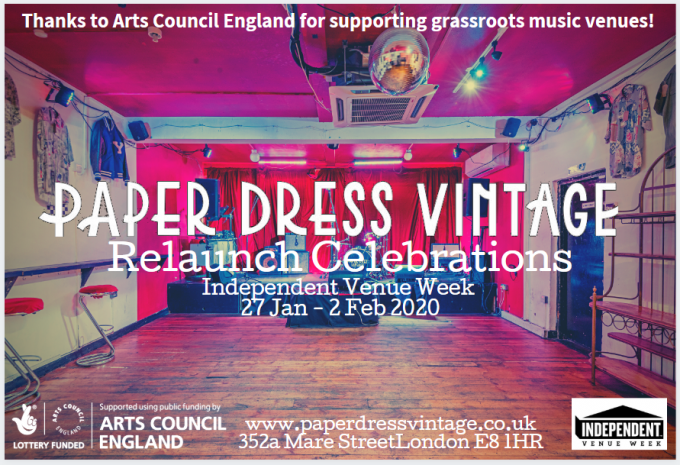 We'll have our new D&B PA installed and ready for action along with a new lighting rig and an extended, bigger stage and some other tweaks & improvements to our space.
Throughout the week we're celebrating the diversity of our programming at Paper Dress Vintage with an action-packed schedule including 2-day multi-venue festival AmericanaFest UK; a debut London show from US artist Angelica Garcia; a joyous Friday night party with our regular Paper Dress 80s Club ft. live music from Funkhaus + Ukulele Ska Orchestra + more; on Saturday 1 Feb we have a huge party planned with a secret guest headliner who played with us years ago when they were just starting out, sold out Village Underground last year and are festival main stage regulars – support comes from Famous and Ellie Bleach – you don't want to miss that one! And we round off the week on Sunday 2 Feb with Scottish psych rock band Man of Moon as the host venue for the London date of their tour. Phew.
Read more about the Arts Council funding announcement here, as reported in Hackney Citizen, and in our interview with London in Stereo.
Independent Venue Week celebrates the spirit of independence and the culture of live music and is "a 7-day celebration of music venues around the country and a nod to the people that own, run and work in them, week in, week out.
These venues give artists their first experience of playing live in front of an audience. They give fans somewhere to get up close to artists that one day, may well be playing stadiums and festival main stages. They also provide those wanting a career in music, off the stage, the chance to learn their craft up close in a small venue."
Tickets for all shows available from our website here.